Latest
Abu Dhabi Will Undergo 19 Phases Of Road Closure Tomorrow
Planning ahead is always a good start to any day, especially when road closures are announced. So, motorists get ready to plan your routes around these 19 phases of road closures in the glorious city of Abu Dhabi.
The Integrated Transport Centre – Abu Dhabi announced 19 phases of road closures in Abu Dhabi for Saturday, February 25
The UAE Tour Event begins at 12pm on February 25 in Yas Island. So, the schedule of road closures will begin as follows:
1st Phase – Warner Bros. World, Yas Island 12pm – 12:10pm

2nd Phase – Al Athlah st. and Al Ikhtisar st, Yas Island at 12:10pm – 12:20pm

3rd Phase – Yas Drive st, Al Ihtiraf st and Yas Tunnel, Yas Island at 12:20pm – 12:30pm

4th Phase – E10 Highway At 12:30pm – 12:50pm

5th Phase – Al Sinad St at 12:50pm – 1:05pm

6th Phase – Al Smeeh St and Al Yal St at 1:05pm – 1:25pm

7th Phase – Al Warqa St at 1:25pm – 1:30pm

8th phase – Al Taweela St at 1:30pm – 1:50pm

9th & 10th phase – Al Bahyah St at 1:50pm – 2:15pm & 2:15pm – 2:20pm

11th Phase – E10 Highway At 2:20pm – 2:30pm

12th & 13th Phase – Theyab Bin Eissa St At 2:30PM – 2:45pm & 2:45pm – 2:44pm

14th Phase – Abu Dhabi – Al Ain Rd At 2:55pm – 3pm

15th Phase – Maqta Bridge At 3pm-3:10pm

16th & 17th Phase – Al Khaleej Al Arabi St at 3:10pm -3:20 & 3:20pm – 3:25pm

18th Phase – al Bateen St at 3:25pm – 3:35 pm

19th Phase – Al Marsa st at 3:35pm – 4:30 pm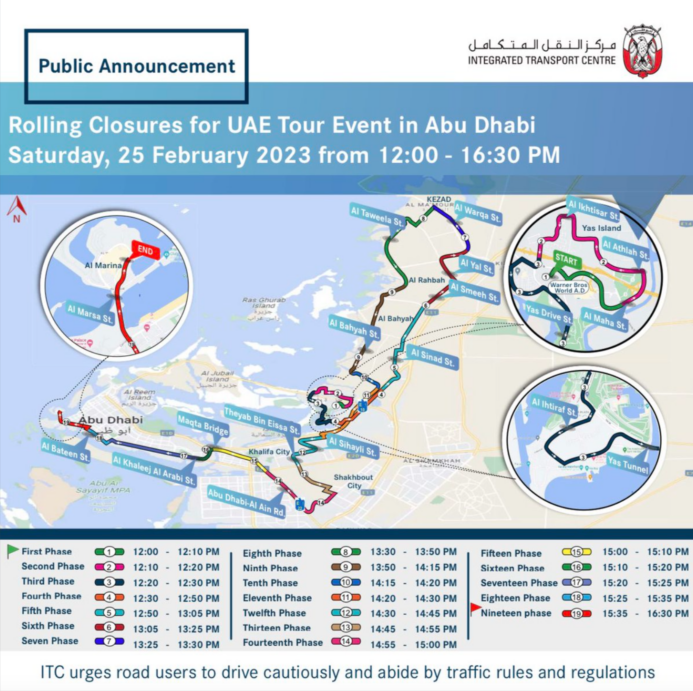 Watch The Lovin Dubai Show: Dubai Announces 3-Day Amnesty-Style Overstay Visa Initiative
Click here to sign up for the Lovin Abu Dhabi newsletter to access the latest trending stories!
Get the latest Dubai news direct to your phone RN! Download The Lovin Dubai app for free RIGHT HERE App Store & Play Store to get the latest trending stories to your phone.