abu-dhabi
Abu Dhabi Now Has A Non-Stop Express Bus Service!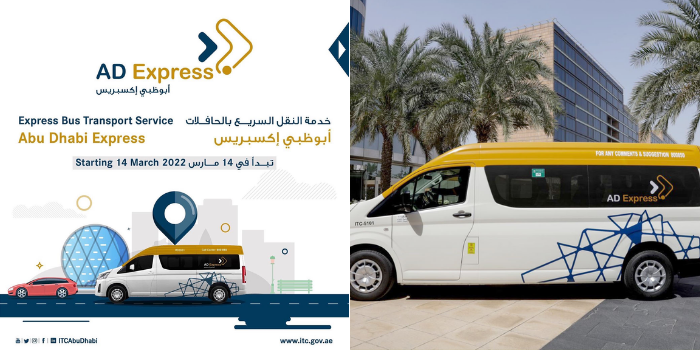 The first and fastest non-stop direct bus service is now available to Abu Dhabi residents!
The Department of Municipalities and Transport's Integrated Transport Centre (ITC) launched the 'Abu Dhabi Express' service, which will give private sector operators speedier bus transportation around the emirate.
Express will officially launch tomorrow, Monday, 14th March, 2022, and will operate from 5 pm to 10 pm on weekdays, and from 5:00pm to 1:00 am on weekends and public holidays. You can also catch a ride every 10 minutes during peak demand hours or every 25 minutes outside peak times.
The Abu Dhabi Express is a non-stop, direct bus service that makes its routes the fastest mode of transportation, allowing passengers to reach their destinations quickly and safely.
Experience Abu Dhabi Express service that offers you a variety of routes and destinations to ensure a quick transport with less number of stops.
Abu Dhabi Express operates on main routes that take you directly to your destinations in a timely manner. pic.twitter.com/dXgaHLWL7j

— "ITC" مركز النقل المتكامل (@ITCAbuDhabi) March 11, 2022
Convenient and easily accessible transport
The 'Abu Dhabi Express' service is launching with the aim of eliminating unauthorized modes of transport in the emirate and providing a sustainable but also convenient transport service across the emirate.
Express will mainly cover two areas: Musaffah Industrial Area and Mohamed bin Zayed City, and the second will cover Khalifa City, Bani Yas, Al Shahama, Al Falah. Other areas will be also be available based on passenger demand.
The first phase of Abu Dhabi express services will be operated by Al Ghazal Transport Company and Emirates Taxi, as part of the strategic partnership between the ITC and the private sector to improve and develop public transport services. The companies have purchased 64 buses to provide the new service.
The ITC will also offer this service in various areas of Al Ain: Al Hiyar, Al Faqa, Sweihan, Al Shiwayb, Nahil, Abu Samra, Al Wiqan and Al Qou'a areas with a total of 680 trips weekly.