Latest
BREAKING: Non-Ticket Holders Will Be Allowed To Enter Qatar Including Residents & Citizens Of GCC Countries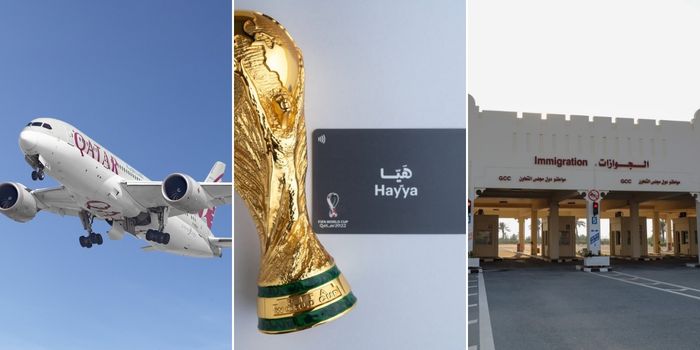 The regulations for entering Qatar are changing and might not be very clear to some so let's break it down and simplify it as much as possible.
On November 4, it was announced that FIFA World Cup Qatar 2022 officials stated that after the group stages travellers with no tickets to the games can enter Qatar. This has already taken effect.
So just a recap, if you want to travel to Qatar, you don't need a ticket but you will need a Hayya Card
With that being said, proof of accommodation and a fee of QR500 is required.
The Hayya Card is your key to everything! This card is your entry permit to Qatar and stadium access, and it grants you free access to the Metro and bus. Additionally, the Hayya Card is your access to get into Qatar for the FIFA World Cup 2022.
View this post on Instagram
The Ministry Of Interior announced that citizens and residents of GCC countries are allowed to enter Qatar without tickets and a Hayya Card
Qatar News Agency made the announcement today and it is effective today.
Citizens and residents of GCC countries who are travelling via flights do not need Hayya Cards.  
Entry through the land port using private vehicles is permissible as of December 8, after applying for an entry permit on the Ministry of Interior website, 12 hours before the travel date, without the condition of paying the prior entry permit fees for vehicles.
#Ministry_of_Interior announces that citizens and residents of #GCC countries will be allowed to enter the country through its various ports without #Hayya_card for non-ticket holders as of today, Tuesday, December 6, 2022. #QNA pic.twitter.com/gXKTm0CReM

— Qatar News Agency (@QNAEnglish) December 6, 2022
Update for all football fans! If you're looking to get into Qatar for the FIFA World Cup but don't have any tix… well, look no further! You can enter Qatar with no tickets after the group stages.
Watch The Lovin Dubai Show:
Get the latest Dubai news direct to your phone RN! Download The Lovin Dubai app for free RIGHT HERE (App Store) (Play Store) to get the latest trending stories to your phone.