Latest
"The Worst Has Passed" Brilliant COVID Updates Direct From The Cabinet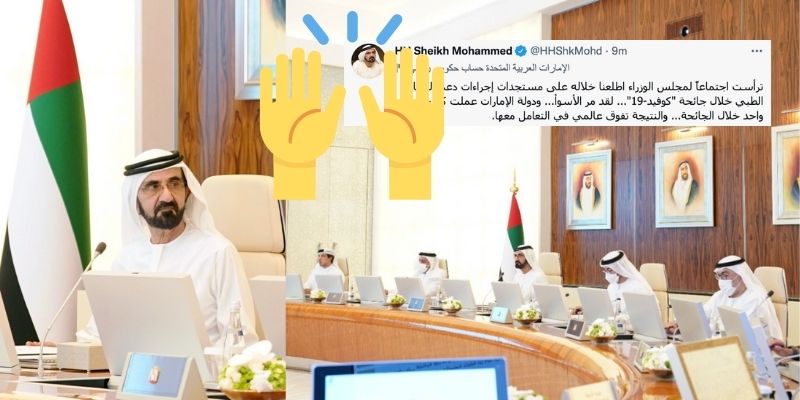 HH Sheikh Mohammed bin Rashid Al Maktoum Vice President and Prime Minister of the UAE and Ruler of Dubai tweeted updates from a cabinet meeting today in which he expressed praise for procedures rolled up during the pandemic, he stated 'The Worst has passed' that we worked as one and we dealt with the pandemic in a superior manner.
987 new COVID cases were announced in the UAE today
كما اعتمدنا اليوم اللوائح المنظمة للمنتجات الطبية والصيدلانية في الدولة… والهدف ضمان وجود وجودة كافة احتياجاتنا الطبية الوطنية على مدار العام.. وفي كافة مناطق الدولة.. pic.twitter.com/8udpZ1E41x

— HH Sheikh Mohammed (@HHShkMohd) August 29, 2021
I chaired a cabinet meeting during which we were briefed on the latest developments in procedures to support the medical sector during the "Covid-19" pandemic… The worst has passed… and the UAE worked as one team during the pandemic… and the result is a global superiority in dealing with it.
Via HH Sheikh Mohammed
New medical and pharmaceutical regulations were approved during the meeting along with the appointment of new judges
The Ruler tweeted, that the goal is to ensure the presence and quality of all our national medical needs throughout the year.
Along with that, the Emirates Council for Gender Balance will be restructured, along with an appointment of 11 new judges in the Federal Courts. Read it
here
.
The news was shared after lunch and the positive feedback is flowing through
We are proud of you May God bless and protect UAE, I am from cameroon and I am happy in UAE, I feel home and I am grateful for that 🙏

— Ernest Temoh (@ErnestTemoh) August 29, 2021