Latest
Dubai Approves Permanent 'Work From Home' Option For Government Employees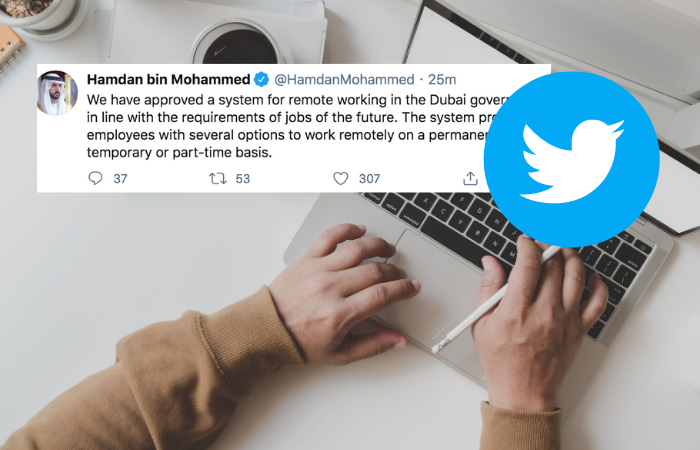 Those working in government jobs, this is for you!
Today, Dubai's Crown Prince HH Sheikh Hamdan made an announcement regarding remote working and future job requirements. Noting that we have entered a new era, HH Sheikh Hamdan tweeted the government is working continuously to improve and in line with that, will offer employees several options to work remotely in future.
Part-time, temporary and permanent work from home options have been improved
We have approved a system for remote working in the Dubai government, in line with the requirements of jobs of the future. The system provides employees with several options to work remotely on a permanent, temporary or part-time basis.

— Hamdan bin Mohammed (@HamdanMohammed) December 10, 2020
HH acknowledged we have entered a new working era, that requires a new way of thinking
We have entered an era that requires a new mode of thinking, with new tools to match. We are committed to continually enhancing Dubai's leading government work model, as our city possesses the capabilities required to lead the next phase.
Via HH Sheikh Hamdan, Crown Prince of Dubai
Always looking forward, the government looks to new solutions to continuously improve government performance. Hear, hear!
We are working to enhance Dubai's leading government work model, as the government of @HHShkMohd constantly looks to the future and seeks to find dynamic solutions, through investing in workforce development to continually improve government performance.

— Hamdan bin Mohammed (@HamdanMohammed) December 10, 2020
UAE authorities are reminding all visitors and residents in the country to wear their face mask when in public at ALL TIMES.
Those who fail to comply with the country's strict COVID-19 regulations will be subject to face a penalty of AED3,000.
Get yo'self this Reusable N95 Anti-Dust Face Mask with a filter for a price much, much less than what you might think.
Ensure your kiddos are safe and comf with this Fine Guard Kids Face Mask. Plus, the mask is designed to be super gentle on your child's face.
Go for a unique look with this 8822 Green Face Mask With Cool Flow Valve.

Listen to The Lovin Daily: Abu Dhabi To Resume ALL Tourism And Entertainment Activities Within The Next 14 Days
Note: This article may contain affiliate links. Lovin Dubai can receive a commission if items are purchased through a link from this post.