Latest
This Formula 1 Weekend Was POPPIN' With One Lit Event After Another!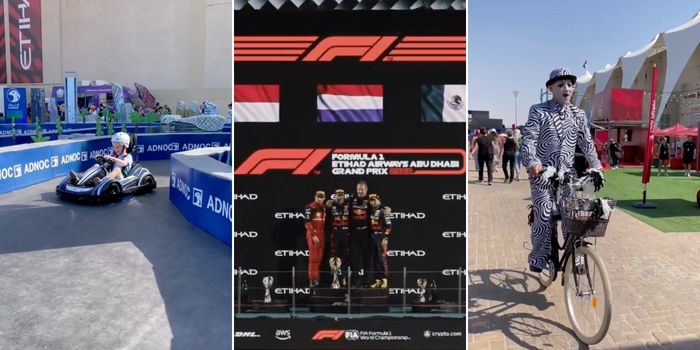 Fantastic live entertainers, celebrities from all over, fireworks, air shows, and one EPIC final race. This Formula 1 weekend was one for the books.
As the 2022 Abu Dhabi Grand Prix came to an end so many notable things happened over the course of the weekend. From the winner Max Verstappen receiving the title, to the legend Sebastian Vettel retiring, the F1 weekend was full of buzzing events.
What a race! Red Bull's Max Verstappen closes this season with a record 15th win
This final race was an absolute masterclass in strategy by both Red Bull Racing AND Ferrari on Sunday, Nov 20. Additionally, it all worked out for Max Verstappen who won a record 15th race this season in the final race at the 2022 Formula 1 Abu Dhabi Grand Prix.
Although, that wasn't the end of it! Verstappen's win led to an intense chase down by Red Bull's Sergio Perez to come in second in the race. Perez raced after Charles Leclerc's Ferrari to secure that 2nd spot for Red Bull but to no avail. As Ferrari's Charles Leclerc's crossed the line and earned that 2nd place in the race!
View this post on Instagram
To memorialise his final race, the legend himself Sebastian Vettel performed donuts as is tradition!
Legendary racer Sebastian Vettel announced earlier this year that the final race in Abu Dhabi was his last race. Moreover, as his time on the tracks has come to an end he performed the traditional donuts solo as he accepts his retirement.
That's not all, the Abu Dhabi Grand Prix had its own plans to say goodbye to Sebastian Vettel. What better way to honour an amazing racer than with fireworks and stands full of fans, esteemed guests, and his fellow racers?
View this post on Instagram
The events at this Formula 1 weekend had the fans going WILD!
Live DJs, air shows, fan zones, and so much more! There was never a boring moment at the Grand Prix even the little ones had fun. For this season, fans of all ages had a chance to participate and stay entertained the whole time.
Little ones had game stops where they could drive around a miniature track in their own race cars. They also had their very own "pit stops" where they took off and replaced tyres on mini-model race cars!
This weekend was definitely one to write home about and it's a weekend fans will never forget.
View this post on Instagram