Latest
UAE And China Call For Urgent UN Meeting For The Violations At Palestine's Al Aqsa Mosque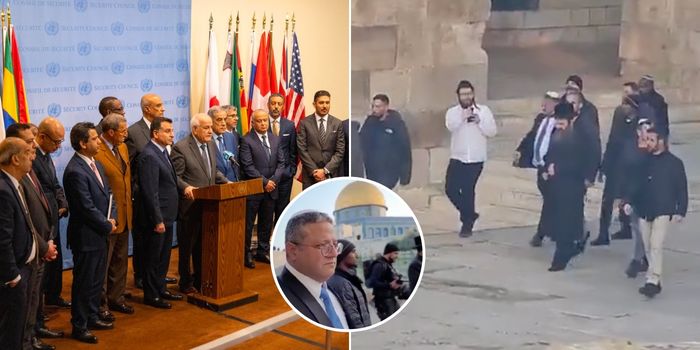 The UAE and China have called for an urgent meeting at the UN Security Council to discuss the recent storming of the Al Aqsa Mosque compound on Tuesday, January 3 by an Israeli minister under the protection of Israeli forces.
The UAE Ministry of Foreign Affairs and International Cooperation (MoFAIC) issued a statement on Tuesday reiterating its firm position on the need to provide full protection for Al-Aqsa Mosque and halt serious and provocative violations taking place there.
Following the statement, the meeting with the UN Security Council is set to take place today, Thursday, January 5.
Important stakeout with @Palestine_UN, member states, & international organizations following an extended Troika of the Arab Group meeting on an Israeli minister storming the al-Aqsa Mosque. Tomorrow, #UNSC will meet on this following a 🇦🇪🇨🇳 request with 🇫🇷🇲🇹 support.#UAExUNSC pic.twitter.com/jAnCUQpQuf

— UAE Mission to the UN (@UAEMissionToUN) January 4, 2023
The Ministry has called upon Israeli authorities to assume responsibility for reducing escalation and instability in the region
The Ministry also stressed the need to support all regional and international efforts to advance the Middle East Peace Process, end illegal practices that threaten the two-state solution, and establish an independent Palestinian state on the 1967 borders with East Jerusalem as its capital.
Furthermore, the Ministry underscored the need to respect the custodial role of the Hashemite Kingdom of Jordan over the holy sites and endowments in accordance with international law and the historical situation at hand, and not to compromise the authority of the Jerusalem Endowment Administration and Al-Aqsa Mosque.
Ben Gvir at the Al-aqsa mosque.

He lied about not going in order to not gather many Palestinians. (Smart move, I was 100% sure that he was going) pic.twitter.com/4IlrlE7gCe

— Younis | يونس (@ytirawi) January 3, 2023
Al Aqsa Mosque was stormed by Israel's new far-right national security minister Itamar Ben-Gvir
The move has angered Palestinians everywhere and has invited international condemnation from countries like France, USA, Jordan, and Saudi Arabia. Several Palestinian authorities have referred to the move as an 'unnecessary provocation.'
Ben-Gvir has previously called for Jewish worship in the mosque. The latest visit is a clear act of non-compliance with the existing law forbidding Jewish worship in the area.
BREAKING 🇸🇦🇦🇪🇪🇬🇯🇴 : #SaudiArabia, #UAE, #Egypt and #Jordan condemns Ben Gvir's storming of the courtyards of Al-#Aqsa Mosque in #Jerusalem pic.twitter.com/mS8uVUhVGL

— Zaid Ahmd  (@realzaidzayn) January 3, 2023