Latest
You Can Go Kayaking Under The Stars At Louvre Abu Dhabi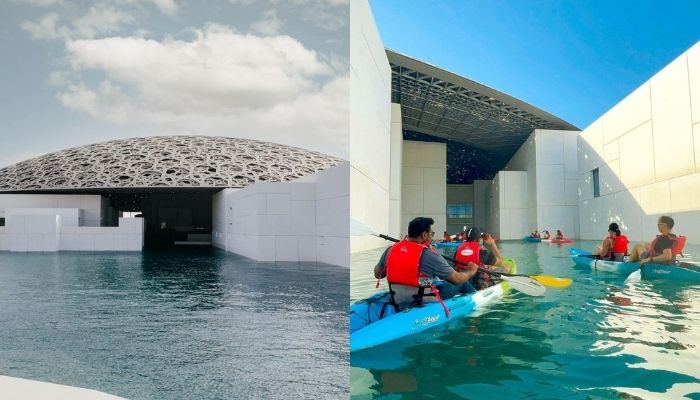 Sure it's fun to go on a road trip to Hatta and go kayaking but that just means you gotta pack a bag, fill up gas, or charge your Tesla if you're boujie. It's too much work. Here's a much more convenient way to do outdoorsy activities in the emirate next door.
Louvre Abu Dhabi is home to some breath-taking artworks and sculptures. Even when you leave the building, it's still picture-worthy. The outdoors space is beautiful and has bodies of water. At night, it's absolutely serene to look at. Now, about the outdoorsy activities…
You can now go kayaking beneath the stars at Louvre Abu Dhabi
On September 20 and 21, you could get the once in a lifetime opportunity to kayak in a MUSEUM
When? 7:30 pm and 9:00 pm on September 20 and 21!
It's definitely a story to tell the kids one day. You could go for a double or a single seater kayak and you must bring your own water bottles and towels. It's AED126 per person.
But in case you're not free to visit them this week, don't fret, the museum responded to a comment saying "Full Moon kayaking tours are happening every month during the full moon." You know the view will be unbelievable if it's full moon season! Visit their website to find out when you could do this again. The next available dates for the kayaking tours is October 20 and 21!
Listen To The Lovin Dubai Show: Rejoice! You No Longer Need A PCR Test To Enter Abu Dhabi