Feature
Thousands Gathered In Excitement To Welcome Pope Francis To Bahrain This Weekend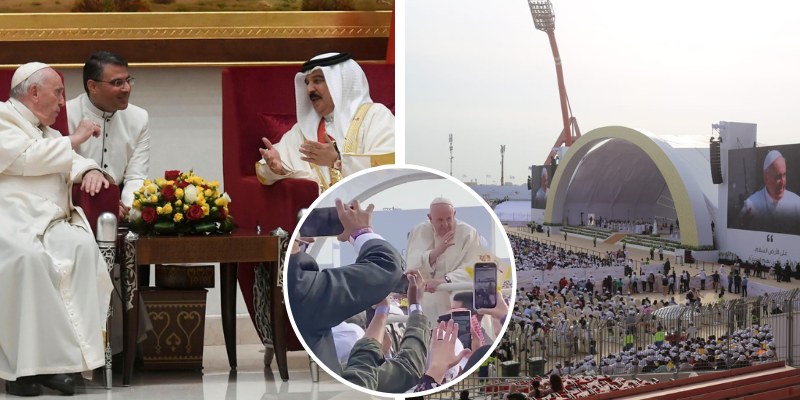 Pope Francis arrived in Bahrain on Thursday, November 4th, making this past weekend quite an eventful one for the Kingdom
INCREDIBLE !!

Thank you HM King Hamad 🇧🇭❤️

About 30,000 flag-waving worshippers joined an open-air mass held by Pope Francis🇻🇦@Pontifex in Muslim Bahrain on Saturday. pic.twitter.com/Xutnwq5Bje

— حسن سجواني 🇦🇪 Hassan Sajwani (@HSajwanization) November 5, 2022

The Pope arrived for a four-day tour of the Kingdom, in which he first visited the Bahrain Forum for Dialogue: East and West for Human Coexistence in Awali, where he also met Muslim leaders. The Pope then made his way to Our Lady of Arabia Cathedral for Mass, prayer, and meetings with the Catholic community of Bahrain.
The crowd was super excited to welcome him to Bahrain National Stadium
Pope arrives at Bahrain's national stadium to cheers from the faithful #PopeinBahrain pic.twitter.com/kbuczXvImQ

— Rory Reynolds (@RoryReynolds) November 5, 2022
More than 30,000 people gathered at the site Friday night, in excitement to see the Pope on Saturday, November 5th. Some arrived a little past Friday midnight, just to secure a good seat at the location!
It was a beautiful union of different communities as people on Twitter were all praises for his arrival
Amazing to witness Pope Francis and top Sunni #Muslim religious authority, the Grand Imam @alimamaltayeb, in #Bahrain alongside Cardinals from the #Catholic Church and imams from @MuslimElders. 🤝 ✝️☪️ Christians and Muslims standing together side by side as we should! pic.twitter.com/5HLR1AIJsS

— Emily Raffoul إميلي رفول (@EmilyLJudd) November 4, 2022
Pope Francis met with His Highness King Hamad of Bahrain and even had a warm exchange of gifts
Pope Francis arrives in #Bahrain for his 39th Apostolic Journey abroad, the first papal visit to the country. His 4-day visit focuses on the themes of interreligious dialogue, fraternity, and closeness to Christians living in the region.#PopeInBahrain pic.twitter.com/tJPAtzZKkN

— Vatican News (@VaticanNews) November 3, 2022
He even posted this Tweet about Bahrain, after his arrival
The Kingdom of #Bahrain Declaration teaches that "whenever hatred, violence and discord are preached, God's name is desecrated". The one who is religious strongly rejects the blasphemy of war and the use of violence. #ApostolicJourney

— Pope Francis (@Pontifex) November 4, 2022