Coronavirus
NCEMA: The UAE Is Finally Seeing A Decrease In COVID-19 Cases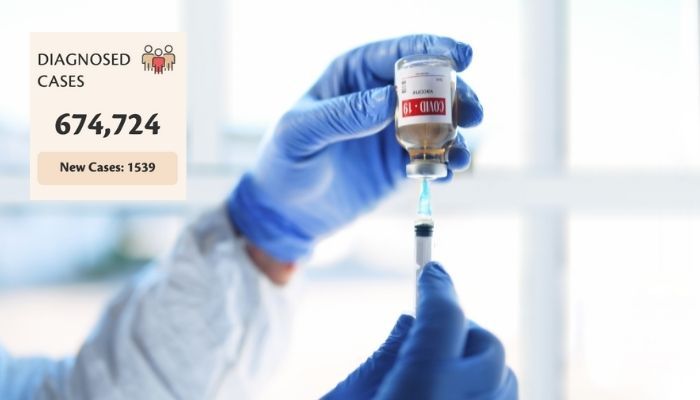 The National Emergency Crisis and Disaster Management Authority (NCEMA) held the weekly COVID media briefing and reported impressive accomplishments. As we all know the UAE took all the necessary COVID guidelines and we're seeing the pay off. The UAE is finally seeing lower COVID-19 cases per day.
The low number of positive cases per day is a step closer to normalcy, NCEMA stated
The decrease in the number of cases reflects a gradual return to a new normal life, with a wider return of economic & tourism activity, & return of employees to their work, which aligns with the concept of adapting with the virus, which would enable humanity to achieve recovery.

— NCEMA UAE (@NCEMAUAE) July 27, 2021
The UAE contributed to 80% of the international response to countries struggling during the pandemic
As part of the vision of the late Sheikh Zayed bin Sultan Al Nahyan, founder of the uae, the country is committed to support countries which are struggling. Medical aid relating to COVID-19 were sent to 135 different countries. In addition, 117 countries received aid from the international oranisation's warehouses in Dubai International Humanitarian City.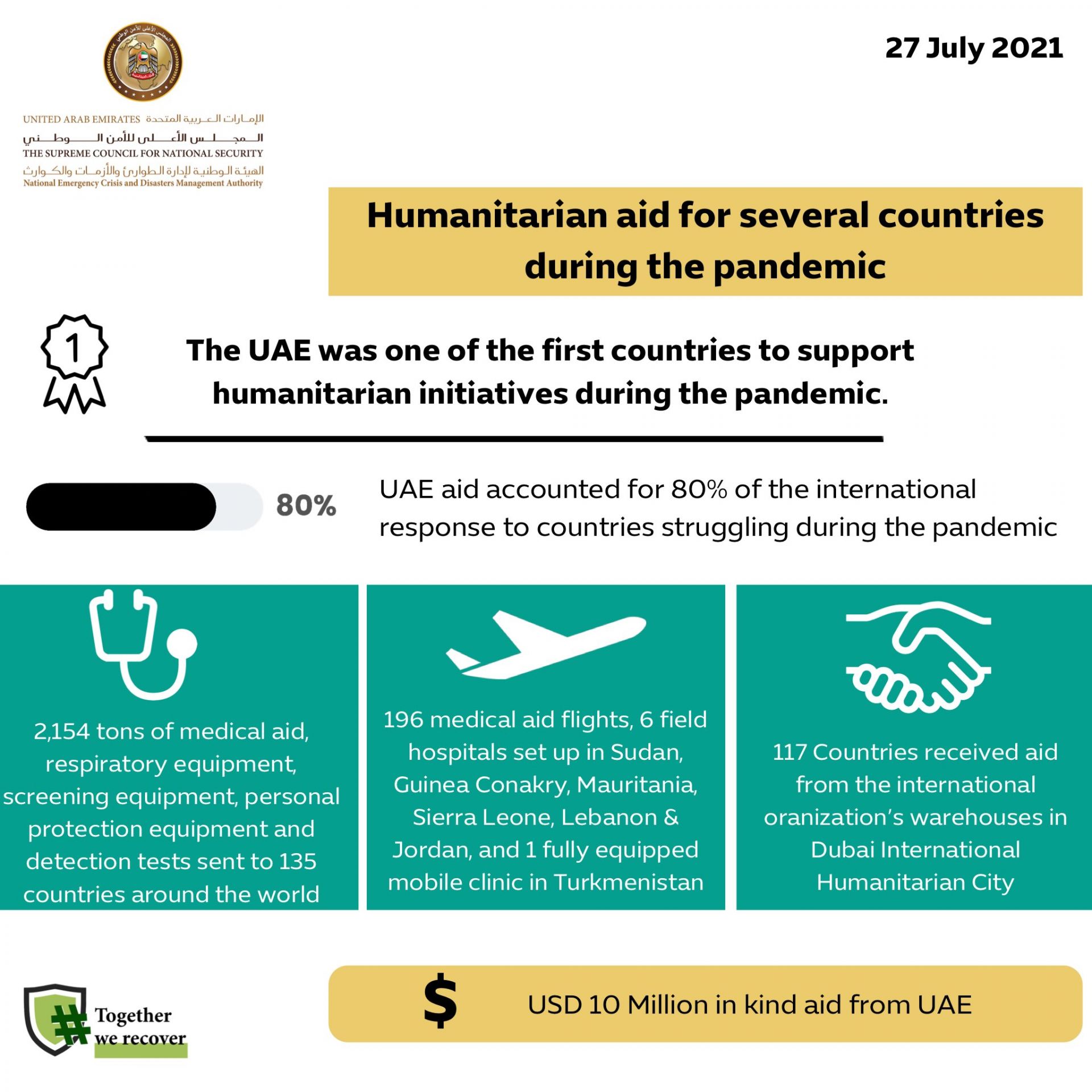 NCEMA: The UAE is a top destination for "safe tourism"
Whether you're traveling to or from the UAE, the COVID precautionary measures and travel protocols are in place to ensure public safety. Travel protocols are also in place
NCEMA are reminding travellers to only travel to green listed countries, inquire about the spread of infection in the destination you're travelling to, get health insurance, and comply with the measures stipulated by WHO.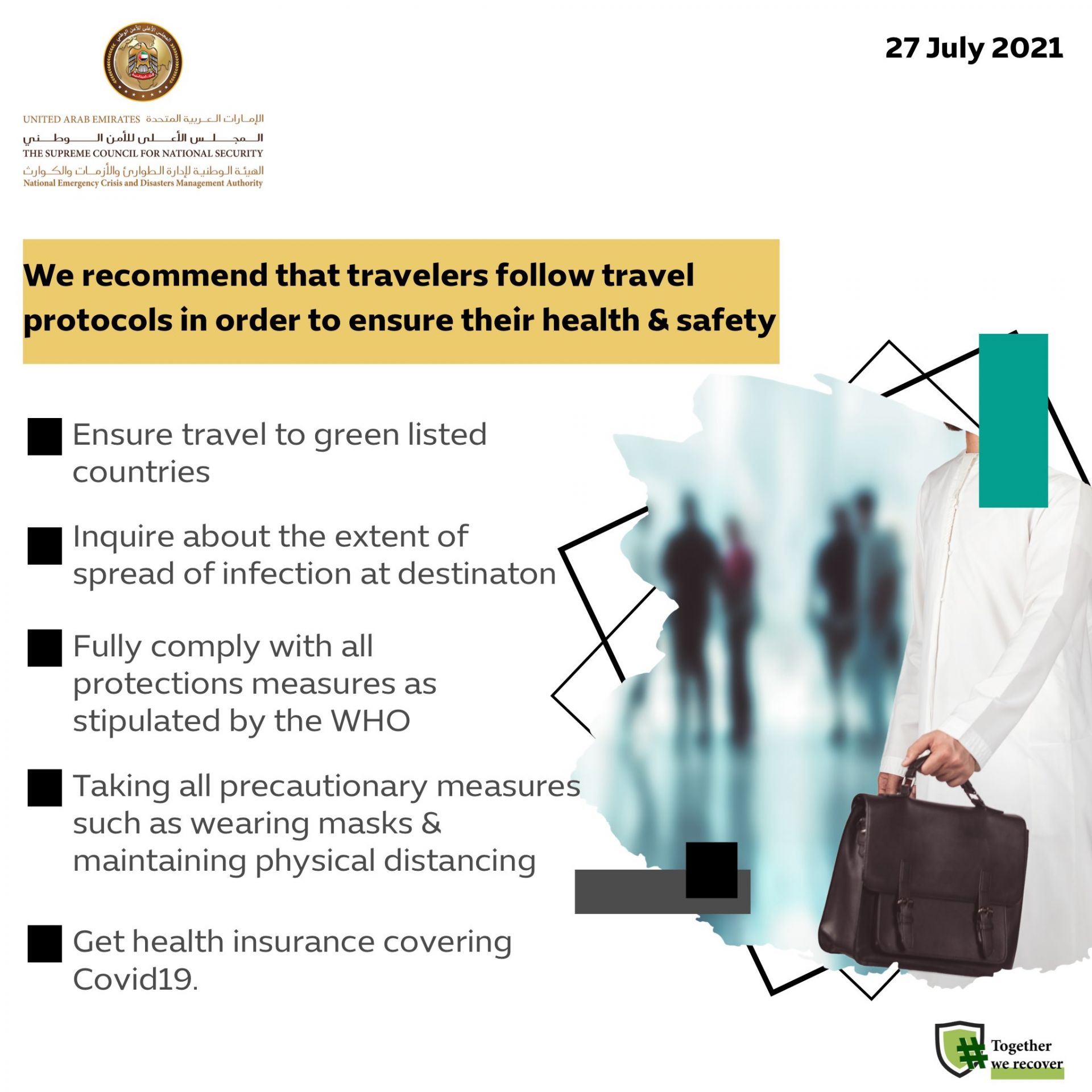 Dr. Taher Al Ameri, the official spokesperson for NCEMA stated that Eid al-Adha showed a commitment in the precautionary measures
77.91% of the total population of the UAE received the first dose and 69.35% received both doses.
Also Read: Pregnant Women Are Now Eligible For The COVID-19 Vaccine In Dubai