Coronavirus
Unvaccinated Students Over 12 Must Do A PCR Test Weekly
The weekly COVID-19 media briefing was held on Sunday, August 22 and it's all about back to school safety! The protocols that were named by NCEMA have been circulated on educational institutes in the UAE and is also shared below.
Parents are advised to download the Al Hosn app to present their children's PCR test results and vaccination certificates.
Also Read: Children Aged 3 To 17 Are Now Eligible For The Sinopharm Vaccine In The UAE
Unvaccinated students aged 12 and above must do a PCR test weekly and online learning is available to all students
Health Sector: The operation protocol of education institutes during the pandemic states the regulations to operate institutes including nurseries & daycare centers, private & public schools and higher education, training centers & institutes. #TogetherWeRecover pic.twitter.com/kOF9CB3D0D

— NCEMA UAE (@NCEMAUAE) August 22, 2021
The protocols will be applied 30-days from the first day of school to give unvaccinated students the chance to get the jab
During the first 30 days, vaccinated and unvaccinated students alike must complete a PCR test every 2 weeks.
After 30 days, unvaccinated students under 12, And vaccinated students aged 12 & over will have to take 1 PCR test per month. Unvaccinated students aged 12 & over, must conduct weekly PCR test. Distance learning will be available to vaccinated & unvaccinated students of all ages.
NCEMA stated.
It is important to inform the education Institute of any chronic diseases or immunodeficiency. And ensure that the student has not been in contact with an infected case within 2 weeks of starting school.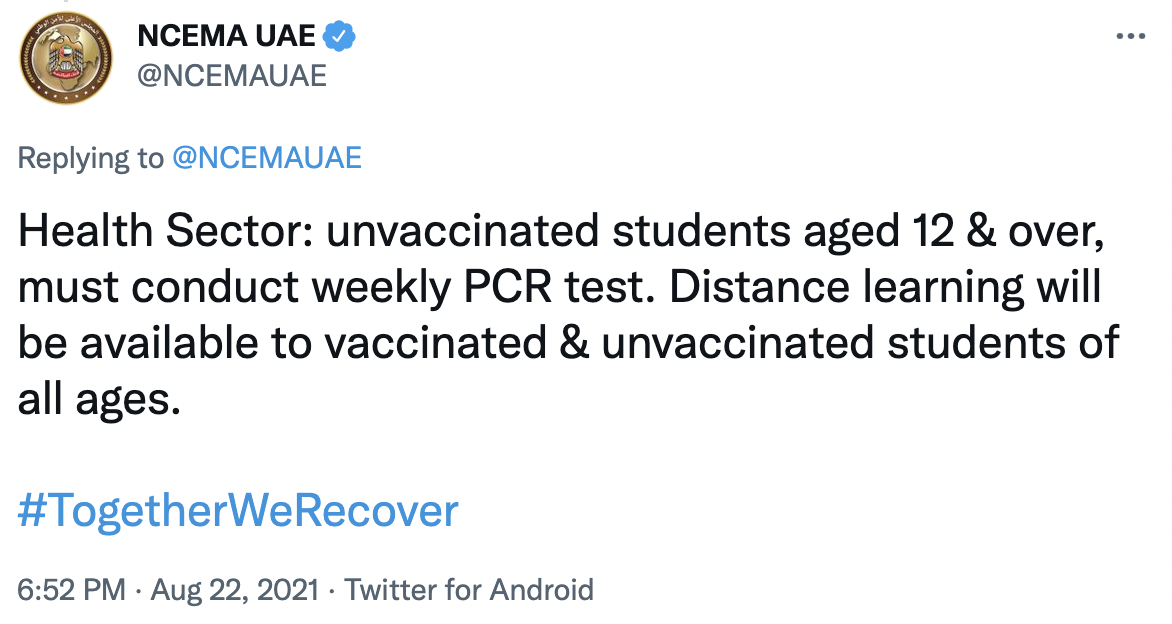 Educational institutes are responsible for managing and preventing crowding during classes and breaks
1 meter social distancing stickers will be placed in educational institutes to serve as reminders and guides. "If students or staff are showing COVID-19 symptoms, the health and safety personnel must be notified immediately and guardians must be informed of the suspected cases with regular updates."
Prayer rooms will be steralised after every use and all users must bring their own prayer mats and wear mask during prayer. Isolation rooms must be provided by the educational institute to properly handle confirmed and suspected COVID-19 cases.
Health Sector: We are thankful & grateful to our educational Institutes & our heroes at the first line of defense in the education sector. We commend them for their commitment to the continuation of the educational systems in the UAE. #TogetherWeRecover

— NCEMA UAE (@NCEMAUAE) August 22, 2021
Listen To The Lovin Dubai Show: A Dubai Royal Wished Happy Onam To Dubai-Based Keralites