Competitions
COMPETITION: Help Support Team Angel Wolf's Medical Expenses And Be The Team's Official Sponsor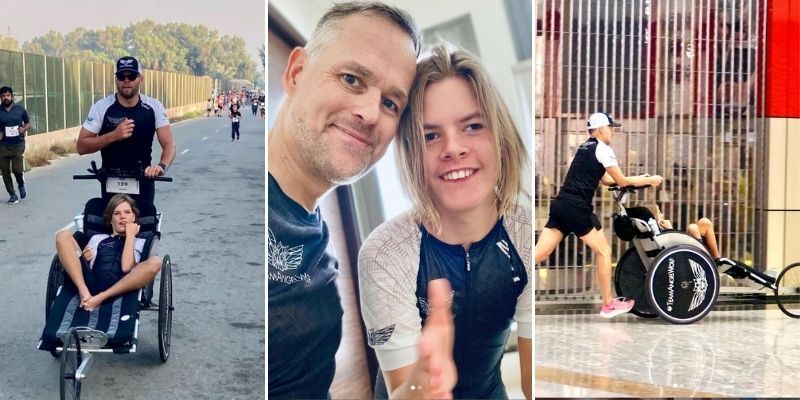 COMPETITION: Help Support Team Angel Wolf's Medical Expenses And Be The Team's Official Sponsor
Rio need your support.
Team Angel Wolf is genuinely struggling to afford Rio's health insurance.
How can you help? Well, by entering a simple competition, YOU can be the chosen sponsor of Team Angel Wolf for their #ClimbWithRio World Tour and in return, receive a LIVE Impact Talk that explains the story of the team, the #ClimbWithRio World Tour, that can be adapted to bring in any subject (whether it's for your office team-building or mental health awareness).
One lucky winner can avail a free talk that can be used in your place of work AND your company gets to sponsor Team Angel Wolf for a month
Team Angel Wolf have been raising awareness on people of determination and their inclusivity in fitness activities
Dad Nick Watson, mom Delphine, Rio and sister Tia forms the Dubai-based group, that started out of the family's hope: to spread awareness on childhood illnesses and promote healthy living.  Nick and Delphine's son Rio was diagnosed with Q44 Deletion De Novo, which means that he has troubles with walking and speaks through sign language.
Rio sjoins his dad along many active events in the city, inspiring the people that see them. The team has been joining marathons, duathlons and triathlons runs, swims and cycles.
Even meeting Dubai's Crown Prince at one point!
The PRIZE up for grabs is worth AED25,000 (a steal!)
What's up for grabs if you win:
One month of Sponsoring #ClimbWithRio World Tour 17,500AED ((normal price 25,000AED)
Team AngelWolf LIVE Impact Talk explaining the story of TAW and all about #ClimbWithRio WORLD TOUR plus Team Angel Wolf can adapt the talk to bring in any subject for the company, including:

Employee Wellbeing
Diversity & Inclusion
Mental Health
Compassion Fatigue, Burnout & Stress
Leading Change
7,500AED
Total: 25,000AED
Easy peasy! Just answer the question below for a chance to WIN: