Dubai Fitness Challenge
Mission Complete! Team Angel Wolf Finish Huge 30 Day Fitness Challenge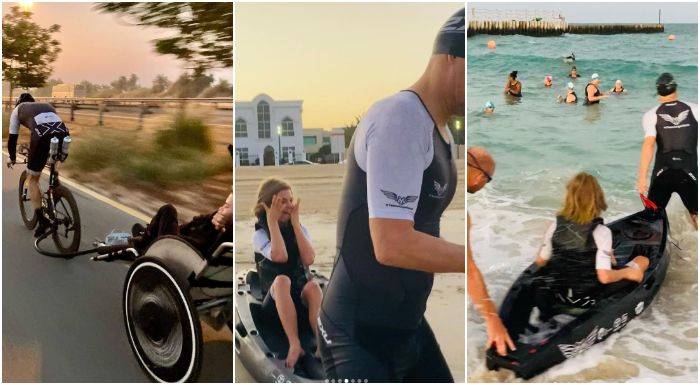 What was particularly cool about Dubai Fitness Challenge 2020, was the individuals and teams who went BEYOND the 30 minutes, and created their own unique challenges.
We've followed a number of great stories, and one, in particular, that's worthy of attention is the ever-inspiring Team Angel Wolf.
The family who encourages inclusivity hit the track, or the sea each and every morning for 30 days. Their aim? As always, was to encourage others to join them too, and for the #TriWithRio challenge, they either ran 10km, swam 1,500 and cycle 40km a day for 30 days.
(I joined them one morning, 6am at Kite Beach, and for the uninitiated, this is NO easy task!)
The father and son duo were pounding pavements before sunrise and they finished #TriWithRio successfully on Sunday
As the challenge continued, residents joined the famous family, making the most of these chill mornings and taking on the Fitness Challenge!
Dad Nick impressively pulls Rio, by bike, during the run and at sea
The power of motivation
Afraa is a nine-year-old who took on a 7-day Super Sprint challenge, she says she's inspired by Team Angel Wolf. They ran at Kite Beach on Day 21.
And shoutout to everyone who made the effort to join them on their journey throughout Dubai Fitness Challenge