Islamabad
Imran Khan Got Shot? How Did That Happen!?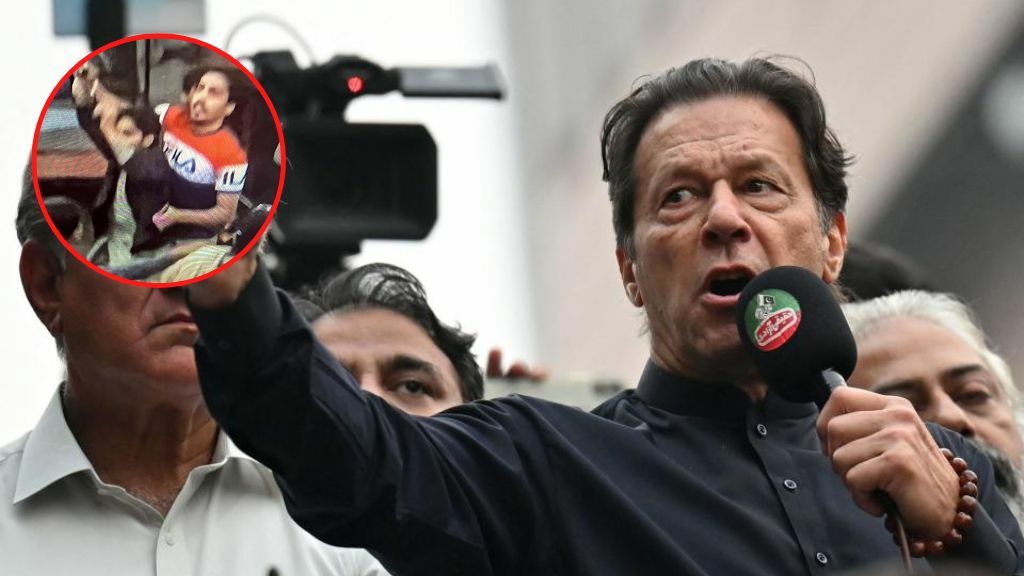 Pakistan's former prime minister and PTI chairman, Imran Khan, escaped assassination attempt during the long march towards Islamabad.
Hold on! WHAT!?
PTI, along with a huge number of people, were on their way towards Islamabad when a gunman in Wazirabad opened fire at PTI's chief. Imran Khan sustained bullet wounds to his leg oh his leg as he led the march in Wazirabad.
Footage of the firing. Assassination attempt on Imran Khan. pic.twitter.com/fmSgI2E8jc

— Ihtisham Ul Haq (@iihtishamm) November 3, 2022
How scary is this?
Fortunately, however, Imran Khan was immediately shifted to Shaukat Khannum Cancer Hospital in Lahore. The doctors at the hospital said that he was stable and talking as well.
However, unfortunately one citizen lost his life at the incident. Moreover, about 14 other party leaders and citizens sustained injuries. Ahmed Nasir Chatha sustained bullet wounds to both his legs while Faisal Javed to his face. Zahid Khan was also hit by bullets in his right arm and right leg. The list does not end here. Liaqat and Areeb sustained bullet injuries to their abdomens.
Things were VERY serious!
The videos of the incident are surfacing all across social media. A video of the gunman, who opened fire at Khan, is also doing rounds everywhere.
https://t.co/OzckR6kcYV#Watch: #Video Moments of #shooting at Imran khan, Gunman Who Attacked Imran Khan Arrested, #Imrankhan #Pakistan #BreakingNews #viralvdoz pic.twitter.com/VB5n2Za8cy

— ViralVdoz (@viralvdoz) November 3, 2022
The video, however, also shows a man who was brave enough to tackle the gunman. The man himself was unarmed, yet still had enough courage and guts to tackle the suspect all by himself. The man has been identified to be a PTI supporter named Ibtisam.
True man of steel! Superman who?
Imran Khan's former wife, Jemima Khan, took to twitter to thank Ibtisam for saving Imran Khan and to stop the assassination attempt.
Shout out to this hero who jumped in to stop the assassination attempt on Imran Khan! pic.twitter.com/vKiFT11NJL

— Jeremy Khan 🇵🇰 (@JeremyMcLellan) November 3, 2022
Provincial minister for Healthcare, Dr. Yasmin Rashid, also took to twitter to shout the savior out. She showered him with all the prayers and blessings and called it a "true act of valor".
Ibtisam- May Allah reward you.
Pakistan is grateful to you brave child.
A true act of valour! #عمران_خان_ہماری_ریڈ_لاین_ہے pic.twitter.com/H3iSKVlRx1

— Dr. Yasmin Rashid (@Dr_YasminRashid) November 3, 2022
People all over Pakistan have been sharing their views and their disgust towards this heinous attack. Not only people of this nation, but people all over the world condemn this attack on Khan. The US Secretary of State, Antony Blinken, and Congresswoman Sheila Jackson Lee, expressed their shock at the incident that took place in Wazirabad.
The U.S. strongly condemns the shooting of @ImranKhanPTI at a political rally. We wish him and all others injured a quick recovery, and we offer condolences to the family of the individual who was killed. All parties should remain peaceful. Violence has no place in politics.

— Secretary Antony Blinken (@SecBlinken) November 3, 2022
1/3 As Chair of the U.S. House Congressional Pakistan Caucus, I'm appalled at the shooting of former Prime Minister Imran Khan and condemn such violence in the midst of peaceful protests. The former prime minister was leading a peaceful protest when shots rang out. We must have

— Sheila Jackson Lee (@JacksonLeeTX18) November 4, 2022
Moreover, everyone's absolute favorite, Mufti Menk, also showed his disbelief and grief towards the news of Imran Khan. He went on to wish for nothing but the best for him and showered him with a bunch of prayers.
Shocked and saddened by news that Pakistan's former Prime Minister Imran Khan was injured following a shooting incident. I wish him well and a speedy recovery. Violence in all forms is totally wrong and unacceptable, no matter what our differences may be. #imrankhaninjured

— Mufti Menk (@muftimenk) November 3, 2022
These tweets are nothing but absolutely and completely wholesome!
As a valiant soldier of man that Imran Khan is, after sustaining these painful wounds that could have proved to be fatal, he came out of his container to greet and assure his supporters about his wellness. He waved at his supporters and a couple of them came forward to support him to be able to reach for his car.
Imran Khan was shot in the leg but was stable while being taken to hospital. He waived at supporters too. #عمران_خان_ہماری_ریڈ_لائن_ہے pic.twitter.com/XizoAQzPax

— PTI (@PTIofficial) November 3, 2022
اگر وہ سمجھتے ہیں کہ ہم ڈر جائے گے تو یہ بھول ہے انکی ہم اور زیادہ مضبوط ہو کے آئے گے انشاءاللہ
اللہ پاک عمران خان کو جلد صحت یاب کرے ۔ آمین pic.twitter.com/YDilJAZQSQ

— Ali Nawaz (@toxic_game) November 3, 2022
Speechless!
Imran Khan has decided that he will not stop here. The long march is set to resume and they will continue to march towards Islamabad as it was planned originally. Imran Khan will also be addressing the nation today first time after the attack. The speech will be at 6pm local time and will be heard all over Pakistan.
Imran Khan speech will be at 6PM PST.

— Ihtisham Ul Haq (@iihtishamm) November 4, 2022
Click here to check out scholarship opportunity for Pakistan students in Australia!