Community
A Wild Wolf Was Spotted Roaming The Streets Of Al Baha In Saudi Arabia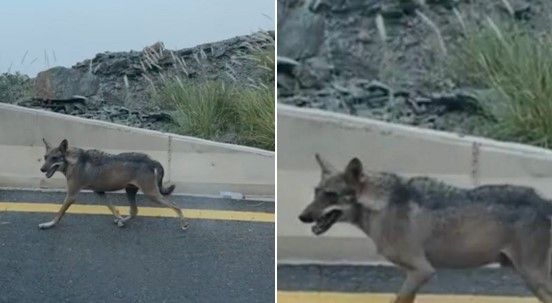 A wild wolf was seen roaming around the streets of Al Baha, Saudi Arabia, earlier this week and it has people talking.
The Saudi citizen who first encountered the wold shared a video online
The wolf was spotted on the King Khalid Highway between the governorates of Bani Hassan and Qalwa in Al Baha.
The local community was proactively sharing the video and warning others from not coming too close to the wolf as wild wolves don't typically come into urban areas and its behavior would be unpredictable.
Take a look at the video
So strange!
أحد الأصدقاء يوثق بهاتفه صباح اليوم الخميس ٢٢شوال "ذئب " مفترس في عقبة الملك خالد التي تربط محافظة قلوة بالباحه … أصحاب الكشتات اللي في العقبه .. انتبهوا 🖐🏼الحذر !!! pic.twitter.com/ilyB6cbH6i

— يوسف الفقهاء (@youesf_alzhrani) June 3, 2021
A video of a minor playing with a wild cat somewhere in Saudi Arabia went viral and has gotten the attention of the National Centre for Wildlife Protection.
The National Center for Wildlife Protection stated that they are monitoring all violation and thanked the whistleblowers for sharing this video
The video of the minor playing with the wild cat first went viral on Saudi Tiktok.
Keeping wildlife at home can lead to severe penalties including up to10 years imprisonment and a fine of SAR 30 million.
The National Center for Wildlife is a government agency is Saudi Arabia that was established in 1986 and responsible for the protection, preservation and development of wildlife in country.
We've all heard of global-warming and pollution– but how many of us know what we can actually do about it? Wouldn't it be cool if we could make the Earth a greener place in the next decade rather than leaving it worse off? There are many ways to be more eco-friendly in your day-to-day life.
Taking care of our environment is a part of the Vision 2030 with plans to plant thousands of trees and create nice green spaces in cities for people to enjoy. Read More.
There are many beautiful Saudi cities with the most breathtaking skylines. Saudi's architectural wonders, from mosques to skyscrapers, museums and commercial spots show just how modern and diverse this country really is.
The many jaw-dropping buildings have been designed by some world-renowned architects and some will even break records — the planned Jeddah Tower is expected to be the tallest building in the world! Read More.