Community
The Internet Is In Awe Of These Upcoming Floating Villas In Jeddah That Look Surreal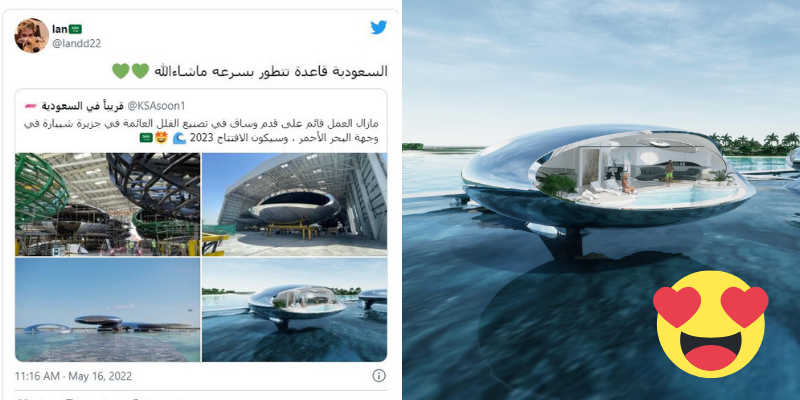 Jeddah is definitely the King when it comes to beach vibes and these upcoming floating villas are EVERYTHING for a summer retreat
عندي صور أعمال حقيقية على الجزيرة اللي جنبها، مثل ما تشوف أول صورتين هي الصور التخيلية وآخر صورتين هي الصور الحالية.

حتى التغريدة اللي فوق وروك هم اول صورتين حقيقية واخر صورتين تخيلية نهائية.

الافتتاح في 2023 بإذن الله. pic.twitter.com/Cy3z0nwidO

— طبيب مُرهق 🩺 (@drabdullah1_) May 16, 2022

Pictures of the villas have been circulating all over Twitter and it looks UNREAL. The images look like a fantasy world to the point where netizens assumed the images to be fake. The villas will actually look like they're levitating on the water with a beautiful glass window to give the best views of the Red Sea. The pod looking hubs will open to the public in 2023, and everyone's excited!
This beyond amazing https://t.co/OWQ9XFuMrd

— Abdullah (@3abdullah) May 16, 2022
The internet just can't get enough of it!
السعودية قاعدة تتطور بسرعه ماشاءالله 💚💚 https://t.co/brnkbzxnWz

— lan🇸🇦 (@landd22) May 16, 2022