jeddah
5 Clubs To Join In Jeddah For People Who Love The Outdoors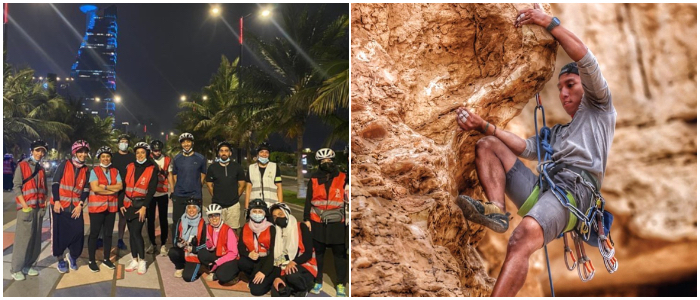 It's fun to stay fit. It's even more fun when you have company! Luckily for Jeddawis, working on your fitness doesn't have to be a tedious chore limited to hitting the weight rack at the gym. There are lots of Jeddah clubs to join to help you stay motivated while having fun and reaching new goals.
Here are 5 Jeddah clubs to join if you love the great outdoors:
5. A climbing club
Daredevils can climb to new heights with the Saudi Hiking and Climbing Federation. Become a member and you can get information on the coolest hiking trails and climbing crags throughout the country. If you need training and guides, they can also help with that. Competitive streak? They've also got an annual climbing cup in Jeddah.
View this post on Instagram
4. Running clubs
Whether you're a seasoned distance runner or you're the kind of person who gets tired just thinking of running around the block, join the Jeddah Running Community and get up off that couch! The community is super active with regular runs, relays and races to keep you motivated. It's a great way to meet new friends and get some fresh air.
View this post on Instagram
3. Try Plogging
You read that right. If you want an outdoor experience that'll have you feeling good and not just from the endorphins, join these philanthropic "ploggers." The Hejaz Ploggers meet up to help clean up the city one run at a time. A true win-win. Be prepared to roll up your sleeves, put on some gloves, and pick up litter throughout the city while you jog.
View this post on Instagram
2. A football club
Work on your foot-eye coordination and team-building skills by joining the Women's Football League. Open to all levels of experience, the football league wants to get more ladies in the game with local tournaments for a dose of healthy competition.
View this post on Instagram
1. A cycling club
Enough with the stationary bike! Join the Jeddah Cyclist club and break free of the indoors. You'll enjoy the thrill of fresh air, get a good sweat and make some new workout buddies in the club which is super active and will even give you a chance to see the sights of your city.
View this post on Instagram
READ NEXT: The 10 Most Instagrammable Places In Jeddah