Uncategorized
The British Council-General In Jeddah Got A Once In A Lifetime Opportunity To Weave The Cloth Of The Kaaba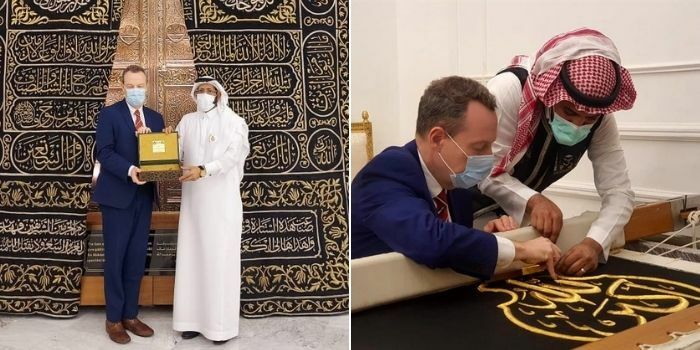 The British Council-General in Jeddah who now goes by the name of Seif Usher after his conversion to Islam about six months ago recently got a rare opportunity that many never get.
The council-general got to visit the factory in Makkah where the cloth of the Kaaba called the kiswa is made and not only that, he even got a chance to weave it as well.
شكري وتقديري لأصدقائنا في مصنع كسوة الكعبة المشرفة 🙏 في مكة المكرمة. زيارة رائعة اليوم 💚#كسوة_الكعبة_المشرفة 🕋@ReasahAlharmain @UKinSaudiArabia pic.twitter.com/FNITOoUIDt

— Seif Usher سيف اشر (@seifusher) April 23, 2022
Here he is with the 1978 kiswa that draped the door of the Kaaba.
The Kiswa cover from the door of the Kaaba, produced in 1978 (1399).

Absolutely beautiful Islamic artwork. pic.twitter.com/bRP9r9ju7h

— Seif Usher سيف اشر (@seifusher) April 23, 2022