Uncategorized
These Pet-Friendly Cafes In Saudi Will Bring A Smile To Your Face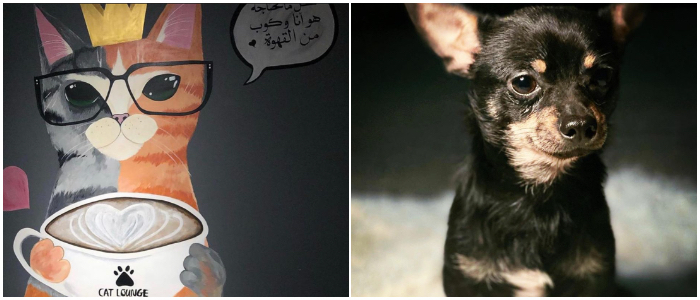 Cats or dogs? It's the perennial question and people on both sides of the debate feel passionately about their favourite pet. Cat and dog lovers in Saudi have opened up some pet-friendly cafes in Saudi where you can enjoy your favourite cuppa and your pet can join you too!
Dog lovers think man's best friend is the ultimate animal companion while cat owners like the independent animals. Perhaps you don't have a favourite or perhaps you love both. There's no denying that cats and dogs are the cutest, fuzziest creatures that can instantly put you in a good mood whether you're petting them or throwing around a frisbee.
Here are three pet-friendly cafes in Saudi that will instantly bring a smile to your face:
This Jeddah cafe says it was the first cat cafe ever in Saudi Arabia. The experience is simple. Order your favourite beverage and then make your way through to the cats area (an entrance fee applies). Adults and kids can play with the cats, pet them and even take some cute photos with them. Even if you're not a cat person, you're sure to be converted after a visit to this place.
View this post on Instagram
This newly opened Riyadh cafe is the first of its kind in the capital and is sure to be a hit. Enjoy a dessert and pick up a latte– swirled with the cutest image of a feline of course– then make friends with one of the resident kittens, playing with them in their play area. The decor is adorable with cat themed artwork throughout. A visit to Cup Cafe Cafe is sure to make all your worries melt away.
View this post on Instagram
This dog cafe is the first to cater to man's best friend in Saudi. The concept started in Kuwait, then came to Khobar and has now made its way to Riyadh, and this place is always packed. It's kind of like a place where your little pup can have playdates and make friends while you enjoy a latte and chat with other like-minded dog owners. It's the perfect place to visit if you ever can't find a pet sitter. Plus, there's even a grooming section where your pup can get adorably pampered and fluffed.
View this post on Instagram