Community
Check Out These Recreations of Sudan Through AI Art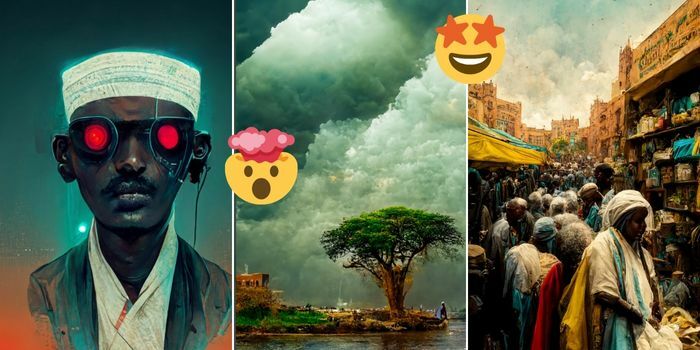 Have you jumped on the trend yet?
Lately, there's been a bit of a buzz online with the trend of artists from all over the globe using AI art, which has fascinated many people.
This growing momentum has inspired many more to experiment and try out different AI Art techniques and AI art generators like Midjourney and others. With artists depicting some of their favourite places, people and moments.
By entering prompts and letting the generator run it's algorithm, the results were dazzling to say the least.
Here are a few reflecting a touch of Sudan in AI Art that caught our eye!
'Wedding Night'
A collection portraying some of the uniqueness of Sudanese weddings.
View this post on Instagram
Sufism
Showcasing some of the Sufi traditions as practiced by Sudanese Sufis, a magnificent recreation!
Sufism culture in Sudan, spiritual ceremony. pic.twitter.com/gOD8f8L4L0

— Rama (@rama97__) August 8, 2022
Blue Nile
The Blue Nile during rain season, do you see the glory in this one?
محاولة رسم قرى الجزيرة الواقعه علي ضفاف النيل الازرق في الخريف عن طريق ( الرسم بالذكاء الاصطناعي – Ai ART MidJourney ) #sudan #الجزيرة #ولايةـالجزيرة pic.twitter.com/TpO56zprEq

— Ashraf | أشرف (@2shrafSD) August 6, 2022
Sudan CyberPunk
Rocking the Sudanese attire? Come on, look at the level of intricacy on this one!
sudan Cyberpunk #MidjourneyAI pic.twitter.com/LdynAsMFZN

— ※ هَــانـز (@mr_hanzala) July 28, 2022
One for the romantics!
Gotta have some romance, right? This user recreated couples from different cultures and backgrounds, check out the Sudanese version shining in grace and BLUE!
37/ A couple from Sudan #MidJourney #AIArt pic.twitter.com/NQp9sudNha

— Haje 🌈 (@Haje) August 3, 2022
Market excursions
The buzz of Sudanese markets and their energy is difficult to encapsulate but doesn't this give you authentic Souq Omdurman vibes?
Omdurman market✨
(which is crowded with people)

I think it's the best what I have now 🔥#midjourny #Ai
These Ai u can used as a cool wallpaper 🙏🏽 pic.twitter.com/5JcCv60pv4

— AMiN 3½ 👾 (@AminSalah94) August 7, 2022
And oh the essence of Al Souq Al A'rabi on this recreation by Mohamed Koda !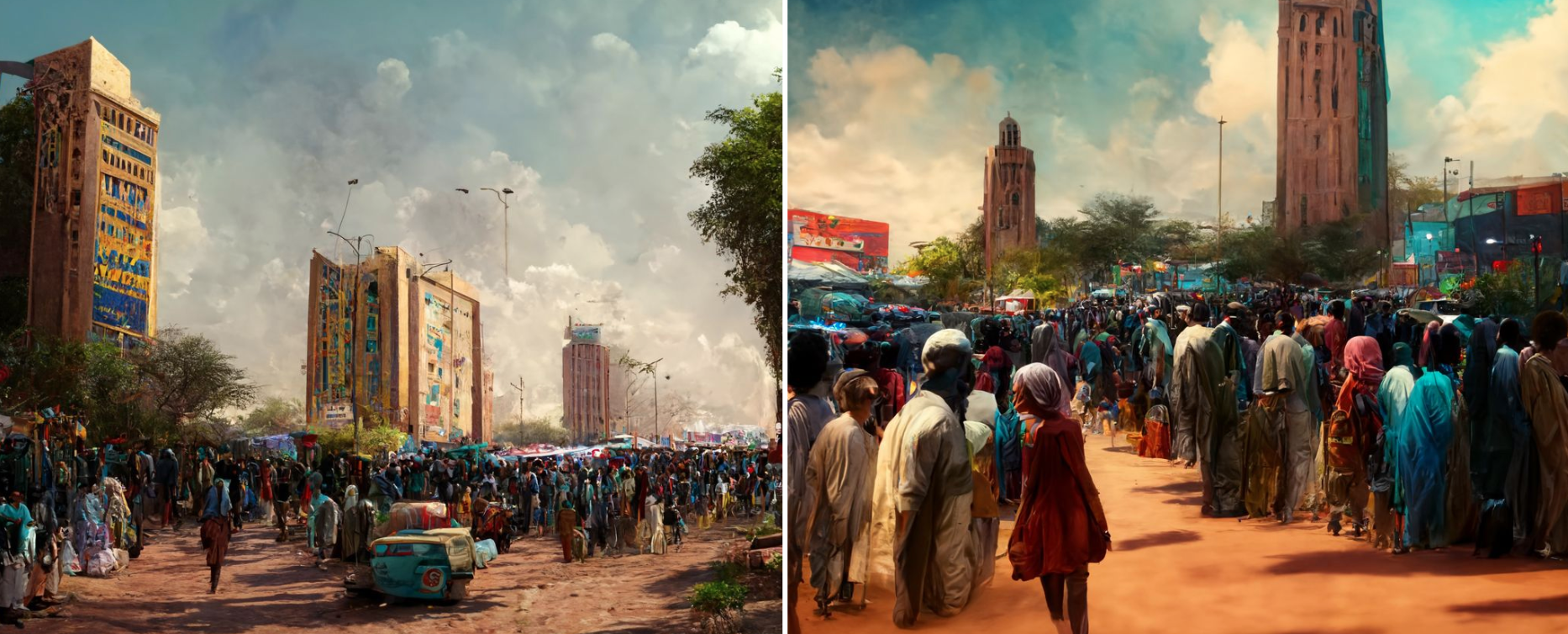 Reimagining Sudan During Renaissance
History enthusiasts, you bring the twist to everything! This one will satisfy the art-history lovers looking for a Sudanese context.
استخدمت الذكاء الصناعي عشان اخليه يتخيل لوحات صور عن السودان في عصر النهضة و النتيجة كانت رهيبة ياخ الذكاء الصناعي خاشي الconcept art بعنف pic.twitter.com/H0bK1XIylC

— Ibrahim (@hxmaside) July 27, 2022
The beautiful thing about this trend is how people have brought it to life with their own personal touches. Finding universality in recreating images that we relate to, AI in art is certainly worth the look, and with Midjourney, the trend is ever growing!
What about you? What would you like to see more of on AI Art Sudan- edition? We love to hear from you on #LovinKhartoum and be sure to stay up to date with our latest!