Community
A Guest Set Up A Mini Mario Cart Track In His Underwater Suite In Atlantis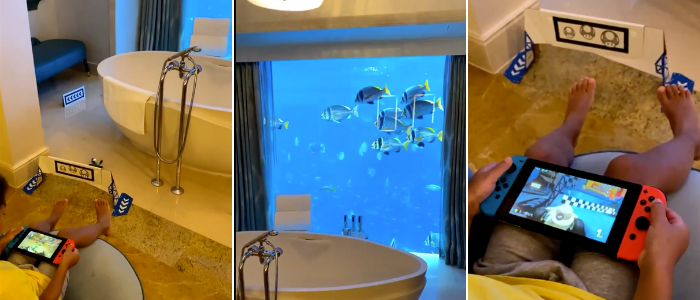 How good does an underwater suite sound? It's got the great views backed with the comfort of being in an Atlantis suite. But there's definitely some more room to give it an upgrade. If you find that hard to believe, hang on.
Hear this out…fishes with Mario!
A guest staying at Atlantis set up a mini Mario Kart drive in the washroom of his underwater suite. And it looks like a LOT of fun.
Have you ever played Mario Kart in the bathroom of your underwater suite in Dubai?

Nah, me neither because my son won't let me have a go 😩 pic.twitter.com/7LigroMyJL

— Ben Anderson (@IAmBenAnderson) December 22, 2020
Yes, if you were wondering, it really is that incredible!
You can see the tank from different parts of your room!
the Atlantis hotel in #duba . https://t.co/KZM4jPlbtJ…
Dubai's "underwater suite" is superb fantastic !! "A room as if I were in Ryugu Castle." 🐠ドバイのアトランティスホテルの最上階🏰✨1泊1万3000ポンド(約254万円)のスイートルーム 13,000 £ / night suite#Dubai #hotel #atlantis pic.twitter.com/QZAdf7m21Z

— miho (@miho20042004) March 22, 2019
Tourists have been flocking into Dubai for the holidays. And the residents have also been enjoying their staycations in town and spots like these underwater suites are PERFECT for it.
What's better is that Santa might just be listening to our wishes. Because Dubai authorities have now rolled out Pfizer/BioNTech vaccines FOR FREE for all residents.
The Lovin Daily: Dubai Residents Can Now Get The Pfizer-BioNTech Vaccination For FREE!
The vaccine might be here but it's still super important to keep those masks on! If you've run out of disposable masks or are looking for quality reusable masks (to avoid paying fines) then check these out:
1. A pack of 50 three-layer disposable medical face masks for AED 23.98.
2. Advance reusable face mask, suitable for when you go running or cycling for AED 88.90.
3. Pack of 8 adjustable and slightly more affordable reusable face masks with breathing filters and earloops, for AED 53.90.
Note: This article may contain affiliate links. Lovin Dubai can receive a commission if items are purchased through a link from this post.