Announcements
Here's A Look Into NEOM Oxagon's First Official Hotel
Here's A Look Into NEOM Oxagon's First Official Hotel
There's been a lot of discourse and people speculating how living in NEOM would be, and with that, the global Yotel has finally announced opening the first-ever hotel in NEOM, which is set to open in 2025!
Next stop: NEOM!

Set to open in 2025, this brand-new #YOTEL will be located in the highly anticipated city of @NEOMOXAGON where industry, people and technology will come together.

Read all about our first hotel in Saudi Arabia here – https://t.co/PWsng3HMZ2#Oxagon #NEOM pic.twitter.com/plXG5Tpzfh

— YOTEL (@YotelHQ) January 23, 2023
A Look Into NEOM OXAGON'S First Hotel
This hotel will feature 300 rooms, robotic concierges, motorized Smartbeds with fully integrated technologies all around the amenities. It will also include a multifunctional dining and co-working space, known as Komyuniti, where people will have their coffee on the go, have access to many meeting spaces, in addition to a 24-hours fitness center! Isn't that amazing?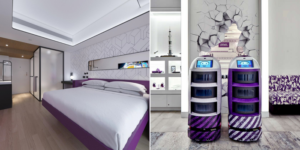 The Executive Director of Hotel Development in Neom, Mr. Chris Newman stated what a wonderful opportunity this is. "Yotel's decision to open their property in NEOM's Oxagon is a powerful endorsement of our ambition to redefine how people travel, stay and live. When complete, it will serve as the ideal home for modern travellers in search of thoughtfully curated and designed spaces, and we look forward to welcoming them". Source.