feature
The 7-Hour 'Flight To NOWHERE' Sold Out In 10 Minutes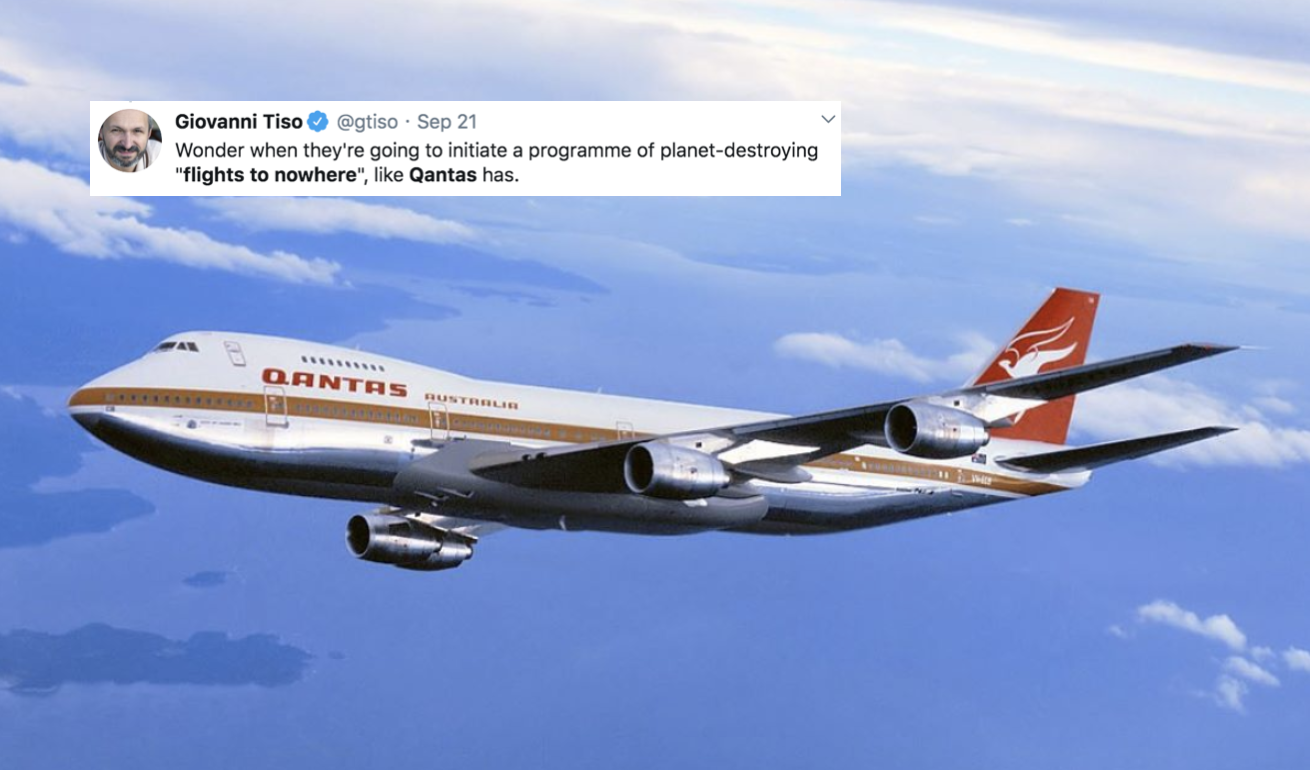 This head-scratcher has taken over the internet.
Aussie airline Qantas is selling a seven-hour 'flight to nowhere', 'for people who missed flying'… And people are snapping it right up!
On October 10, the flight will do an Aussie tour, looping around Queensland and the Gold Coast, and will feature low flyovers over the Great Barrier Reef and Sydney Harbour.
The entire journey costs between AED2000 and AED9,900 per person, depending on if you want to travel business class, first or economy. 134 tickets went on sale and, surprisingly it actually sold out in 10 minutes!
134 tickets on sale, it sells out in 10 minutes and the internet is simply asking, "WHY?"
The @Qantas flight to nowhere is definitely a thing for people that have never flown for work.

— Andrew Silverwood (@AndySilverwood) September 24, 2020
Many are calling out awareness for climate change
"I'm excited
to
tell my kids one day we used this opportunity
to
actually make climate change worse" –
Léa Antigny @leaantigny
"I miss flying, but not this much"
I miss flying but not THIS much: "On Thursday, Qantas announced a flight to nowhere over Australia. That flight sold out in 10 minutes." https://t.co/mhGDIdKyy1

— Shahed Amanullah (@shahed) September 21, 2020
In a country ravaged by devastating fires, people are questioning the airline's climate change policy
Climate change is killing the Great Barrier Reef

💡Let's take a flight to nowhere to get great views of Australian icons like the Great Barrier Reef & Uluru

💰And it is Qantas' fastest selling flight ever…

🤔Qantas have a climate policy?https://t.co/2nNGT3swD1

— Glen Peters (@Peters_Glen) September 18, 2020
Humans are an extraordinary bunch
I know people are wild but this seems wild even by the ordinary standards of people. https://t.co/oWmpSQqVJc

— Mary (@sharpest_rose) September 24, 2020
It DOES seem like strange timing
This is hilarious! So many people are dying to get a flight to be with their families & Qantas is selling flights to 'NOWHERE'. Dear PM @ScottMorrisonMP How about asking them to start repatriation flights? @AusBorderForce @AlanTudgeMP @PeterDutton_MP #LoveIsNotTourism @KKeneally pic.twitter.com/CFngigw5bs

— Exempt the couples 🇮🇳 ❤️ 🇦🇺 (@ExempTheCouples) September 19, 2020
I'd rather travel to see my fam bam tbh
As cabin baggage is NOT permitted, you can get yourself this multi-compartment and Convertable Shoulder Laptop Bag, to store all your in-flight essentials when travelling back home.
You WILL be permitted to carry your laptop, handbag, briefcase and baby items with you during the flight.
On Amazon for AED 139.00
This Spacious Laptop Tote Bag for Women is your one-stop solution if you're big on organisation and order! With 3 layer compartments, this premium PU leather bag has a section for just about anything and errathing.
Promising review:
The bag looks beautiful. Right like in the pictures of the website, rigid and spacefull! I'm very satisfied so far. Will update after using it for some time. It is easy to carry on the shoulder as well, so yes, ladies, if you need to carry a lot of stuff and want to look professional at the same, go ahead!
Buy it from Amazon for AED 235.18
Note: This article may contain affiliate links. Lovin Dubai can receive a commission if items are purchased through a link from this post.