COVID-19 In Saudi
Only Vaccinated People Will Now Be Allowed To Access Public Spaces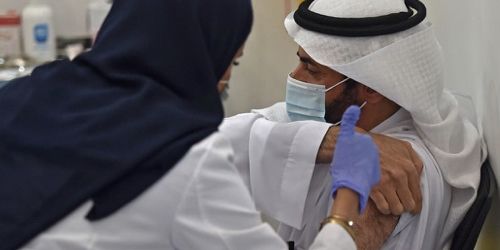 Saudi Arabia announced this week that it will be restricting access to public spaces to only those who have been vaccinated.
This rule will be implemented from August 1, according to the Kingdom's Ministry of Municipal and Rural Affairs
Unvaccinated individuals will be barred from entering public establishments, such as malls, restaurants, retail stores, and markets, among others. Anyone visiting these spaces will need to show proof of vaccination.
#صورة | ابتداءً من يوم الأحد 1 أغسطس يشترط التحصين لدخول المنشآت العامة والخاصة، مع الامتثال بالإجراءات الاحترازية، للحفاظ على الصحة العامة.#وعيك_هدفنا#امتثالك_أمانة#وزارة_الشؤون_البلدية_والقروية_والإسكان pic.twitter.com/dqXhmhbg3W

— وزارة الشؤون البلدية والقروية والإسكان (@saudimomra) July 20, 2021
This follows the decision last week to bar citizens from traveling abroad if they haven't received two doses of a COVID-19 vaccine.