Food
10 Recipes From Top Saudi Food Bloggers That Are Perfect For Iftar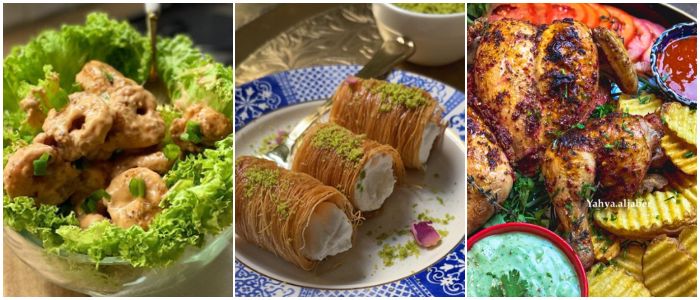 Dining out is fun. Having your favourite Saudi food at home is next level. There's nothing as comforting as a home cooked meal during a cozy night in with your friends and family. In fact, cooking is half the fun. There's something so satisfying about grinding your own spices, the delicious aromas that waft throughout your home and the look on everyone's faces when they're served. 
Let's face it. Restaurants just can't compete. But not all of us know our way around a kitchen and whipping up a kabsa as yummy as your mama's can be a little intimidating. Luckily, we've rounded up some tried-and-tested recipes from some of our favourite Saudi foodies and chefs to help you impress all your friends.
Here are some of the most mouthwatering recipes from Saudi foodies:
10. Dynamite shrimp that taste as mind-blowing as they sound
Chef Randaez crispy, spicy, bomb-diggity shrimp make for a super easy appetizer that can actually look pretty fancy. Just get yourself some quality shrimp and you should be able to throw this together with things you already have in your spice cabinet.
View this post on Instagram
9. A simply but satisfying shish tawook
@SaudiMasterchef's shish tawook proves sometimes the simple things in life really are best. Made with ranch dressing, tomato paste and a little spice, these are the perfect grilling item for the season.
View this post on Instagram
8. Musakhan rolls perfect for a Ramadan iftar
Chef Enas Alansari's feed is full of quick, helpful cooking videos for some of the most popular Saudi foods as well as lots of international cuisine. These super crunchy, fresh musakhan rolls are totally droolworthy.
View this post on Instagram
7. The best chicken tikka
Craving Indian food anyone? Foodie vlogger Hisham Baeshen's recipes look as delicious as they are fun to watch with his entertaining, easy-to-follow recipes. This chicken tikka is sure to satisfy your curry craving.
View this post on Instagram
6. A classic kabsa that will never disappoint
What Saudi food list would be complete without a classic Kabsa?! Food blogger Eman Gazzaz shares her dad's own Kabsa recipe. If you've never made this traditional dish before, don't be intimidated. Eman's recipe has a modern twist– she uses the Instant Pot to make the whole process way faster.
View this post on Instagram
5. A super rich kunafa roll
How could we forget about dessert? Oh kunafa, how we love you. With your crispy, crunchy outside and subtly sweet inside. Foodie Noura's kunafa recipe looks simply irresistible.
View this post on Instagram
4. A satisfyingly sticky basbousa
Foodie Manal's basbousa looks as good as your mom's, cooked to a perfect golden color and dotted with almonds, it's the perfect treat to go with your coffee.
View this post on Instagram
3. A juicy, restaurant-style grilled chicken
Foodie Yahya Aljaber's juicy chicken looks melt-in-your-mouth delicious. Super easy and versatile, this main can be served with fries, rice or even a salad to make a quick, delicious meal.
View this post on Instagram
2. Decadent, chewy peanut butter and date bars
For all your sweet tooth satisfying recipes, head over to Dareen Shaker's page. This quick, unique peanut butter date bar recipe caught our eye with chewy oats and bonus– it's sweetened with honey– making it a guilt-free treat.
View this post on Instagram
1. An extra cheesy eggs Florentine
Eggs make an excellent suhoor for Ramadan, full of protein to keep you fuelled throughout the day. Foodie Njood's eggs florentine recipe is the perfect balanced meal for starting your fast with protein, healthy fat and even spinach.
View this post on Instagram
READ NEXT: 5 Restaurants In Saudi Arabia That Are Offering Delicious Healthy Food Choices