Best of
5 Restaurants With The Best Views In All Of Saudi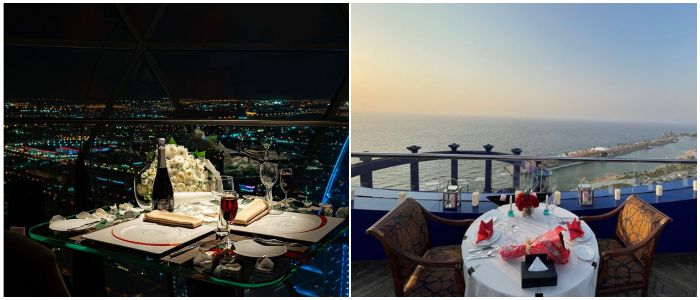 Foodies know that good food is only half the dining experience. The other half is all about ambience. There are a handful of restaurants with the best views in all of Saudi Arabia that just elevate (sometimes literally!) your meal to the next level. With Saudi's beautiful corniches and cityscapes, there's much to gaze upon while you enjoy your meal.
Here are 5 of the restaurants with the best views in all of Saudi:
5. Sun Room Cafe, Khobar
Khobar's iconic corniche is one of the prettiest in all of Saudi, and gazing at it while you think deep thoughts over your morning latte is something everyone should experience. Khobar's popular breakfast spot Sun Room Cafe offers an excellent and extensive breakfast menu, which will only taste better when dining with this sea view. Plus, they also have outdoor seating so you can take in the fresh sea breeze.
View this post on Instagram
4. Agave, Jeddah
City folks, you can enjoy panoramic views of happening Jeddah from the outdoor terrace of this fine restaurant. Located in Jeddah's Rawdah district, the open terrace is especially nice for nighttime dining where you can see the city lit up. The terrace itself is also super pretty with a cool ambience featuring lots of plants, lanterns and lights to create the vibe.
View this post on Instagram
3. Spazio, Riyadh
Located in the glitzy Kingdom Centre, Spazio gives diners a chance to enjoy their meal at 77 stories above ground. The large windows offer spectacular views of Riyadh's incredible skyline, which are breathtaking whether it's day or night. If you haven't had enough of the views from your meal, you can always take the elevator up to the Kingdom Centre's famous Sky Bridge.
View this post on Instagram
2. Sky Lounge, Jeddah
Located in the super luxurious Rosewood Hotel, the Sky Lounge is probably one of the most romantic spots to take a special someone or celebrate an occasion in Jeddah. The seafront hotel has breathtaking views of the Red Sea as well as the corniche and city. The sunsets in this sky high restaurant and lounge are the perfect way to wind down in the evening and are hands down one of the best views in the country.
View this post on Instagram
1. The Globe, Riyadh
Whether you're going for an indulgent afternoon tea or for a fancy dinner, the Globe's 360 degree views of beautiful Riyadh will take your breath away. Located in the sphere that tops the famed Faisaliah Tower, dining at The Globe is a truly unique experience. Perfect for a special occasion or celebration, The Globe has the most luxurious ambience and excellent service that will make you feel like a VIP. Don't forget to pose for pictures — plus see if you can catch a great photo of the Kingdom Centre!
View this post on Instagram
READ NEXT: The Top 5 Burger Spots In Riyadh You Have To Try At Least Once