Latest
5 Reasons You Absolutely Have To Visit Tabuk At Least Once In Your Life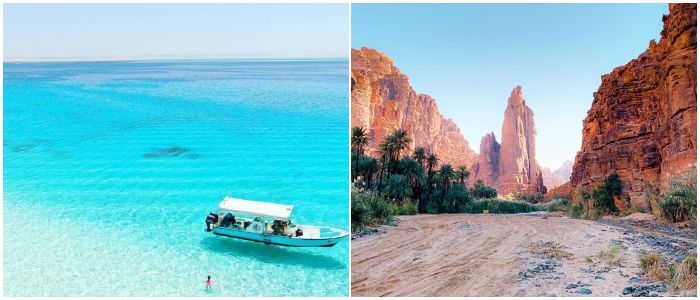 Beautiful Tabuk province in northwest Saudi Arabia basically is a little snapshot of the many things this beautiful country has to offer. It will take you back in time to the beginnings of civilization in Saudi, have you in awe at its sheer beauty, and provide you with endless adventures. So whether you're looking for a cool road trip, you should definitely consider to visit Tabuk.
Here are 5 reasons everyone should visit Tabuk at least once:
5. The History
If you're into learning about the past, visit Tabuk and you won't be disappointed. The region is chock full of old sites of religious significance, old cities and castles. For starters, you'll want to check out Tayma, which is the oldest human settlement discovered in the country and dates back to over 3,000 BC. There's also Maghaer Shuaib and Al Bid'a, old towns which are believed to have been inhabited by the Prophets Shuaib and Musa (peace be upon them).
View this post on Instagram
4. The Castles
Prepare to have your breath taken away at the peaceful but grand Al Wajh Castle and Tabuk Castle. Al Wajh Castle dates back around 150 years and served as a fortress to protect the surrounding areas. It also used to serve as a resting place for travellers on their way to make pilgrimage to Makkah. The architecture will take you back in time. Then there's Tabuk Castle. The province's namesake fortress as it is today is believed to date back to the 1500s but some experts believe the site has had a palace for much longer. The castle is now also a museum holding important artifacts pertaining to Islamic history.
View this post on Instagram
3. The Snow!
In a country where it doesn't even often rain, snow is a seeming anomaly. But part of the Tabuk region are known for becoming a winter wonderland in the cold season. Jabal Al Lawz in Tabuk is known for its snowy peaks come wintertime, and draws lots of tourism from Saudis. Snow is a novelty, so who can resist a once-in-a-year chance to do some sledding in the desert country! Plus, it's absolutely gorgeous.
View this post on Instagram
2. The Wadis
Visit at the right time and Saudi Arabia's beautiful valleys are a place of surreal beauty, a oasis of lush green amid canyons and carved mountains. Wadi al Disah and Wadi Tayeb Ism are two of Tabuk's most beautiful wadis and among some of the most popular in the Kingdom. Here greenery thrives and looks beautiful against the red of the surrounding rock. Wadis are a great place to picnic, camp or go for a hike.
View this post on Instagram
1. The Beaches
Tabuk's Red Sea coast makes for incredible white sand and turquoise water beaches. For those looking to relax or for a little adventure, there's Umluj, Saudi's very own answer to the Maldives. Here you can not just enjoy the beach, but spot dolphins and go snorkelling or diving and check out the beautiful coral reefs and marine life. For something more off the beaten path you can visit Al Haql, the famous "Shipwreck Beach" where in the clear waters lies an old Greek ship which was shipwrecked and is still there.
View this post on Instagram
READ NEXT: 10 Photos That Prove Al Ula Is Saudi's Greatest Wonder