COVID-19 In Saudi
Saudia Airlines Is Increasing Passenger Capacity On Flights Coming From The UAE For The Next Few Hours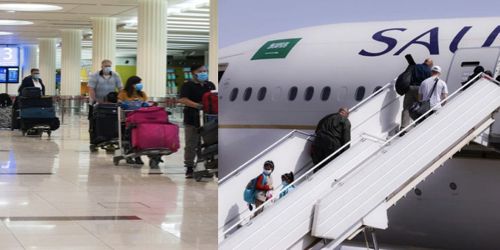 Saudia Airlines is increasing passenger numbers on incoming flights from the UAE for the next few hours.
This is to help accommodate the sudden rise in demand for flights back to Saudi Arabia from the UAE as travelers are rushing to return home ahead of flight restrictions
#الخطوط_السعودية تعلن عن زيادة السعة المقعدية للرحلات من الإمارات إلى المملكة اليوم وغداً .

— أخبار السعودية (@SaudiNews50) July 3, 2021
The Saudi Ministry of Interior on Friday announced a travel ban to and from the UAE, Vietnam and Ethiopia due to a rise in COVID-19 cases and the spread of more severe variants.
#عاجل #الداخلية: 2- إيقاف الرحلات الجوية بين الدول الممنوع السفر منها وإليها، وتطبيق الحجر المؤسسي على جميع القادمين منها مواطنين وغيرهم.https://t.co/soaFddSxlC#واس_عام

— واس العام (@SPAregions) July 2, 2021
Anyone entering the Kingdom after the ban comes into effect on Sunday, July 4, at 11 p.m. will need to quarantine.
Saudia is asking travelers to stay updated on their flight status, new announcements, and other changes via the airline's official channel.
For your convenience, we have added additional flights from #AbuDhabi to #Riyadh , #Jeddah and #Dammam

Book nowhttps://t.co/Qsy6k4npzD#SAUDIA pic.twitter.com/eIreQwuWe1

— السعودية | SAUDIA (@Saudi_Airlines) July 3, 2021
Saudis were given permission to travel to certain countries outside the Kingdom from May 17, as long as they were vaccinated against COVID-19 or recovered after catching the virus.
Those who have received only the first dose of a vaccine are required to wait 14 days before traveling. Those who have recovered from an infection must wait six months after testing negative before flying.