inspo
Dubai Photographer Snaps Glorious Pic Of Camel Rock At Sunrise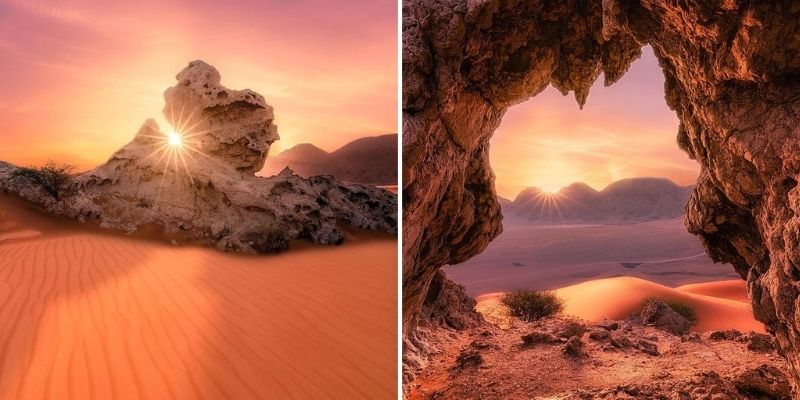 The early bird catches the worm!
You may have visited the UAE desert, but you haven't experienced true remote desert beauty until you've visited Camel Rock and Fossil Rock in Sharjah.
Camel Rock is said to date back over 80 million years and Fossil Rock is named because the formation actually reveal marine fossils around its crevices, they both look beautiful at any hour of the day but now, Dubai Photographer Ihsan Salhia, aka TGfromDubai is highlighting how picture perfect they can be at sunrise.
Just over one hour from Dubai, you'll find both in the Mleiha nature preserve in Sharjah and the nearby Mleiha Archaeological Centre offers guided treks to give you a better understanding for the history of the UAE and early life in the desert.
It's a bit hot for camping, but you can still drive here throughout the summer. Take notes: As with all wilderness exploration in the UAE, always go with a guide or someone with knowledge of the area and avoid midday heat! Tg was up at 4am to get these snaps.
Camel Rock in all its glory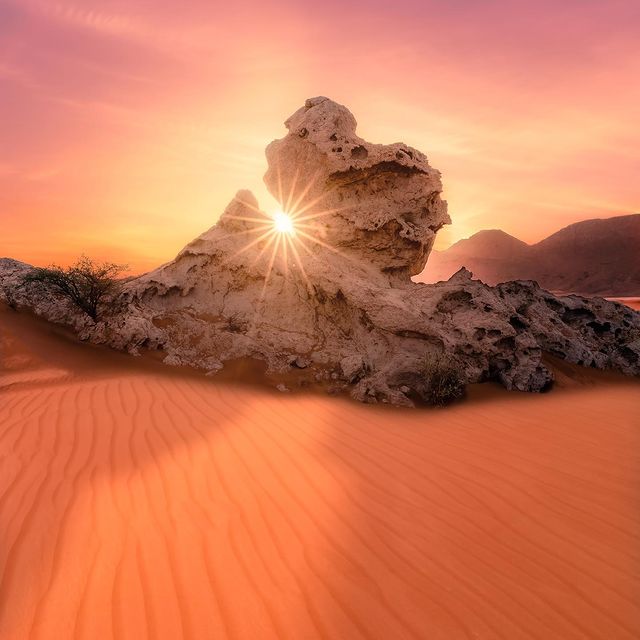 A few weeks ago I was in the desert on top of Fossil Rock Dunes when I spotted this one massive rock in the distance. It had this beautiful shape to it. I had to come back for it. I pictured the sun rising through the cracks and giving a beautiful flare that bloomed like a daisy. So I headed out early this morning and walked through desert until I reached the rock. This is the result. I would love your feedback.
TgFromDubai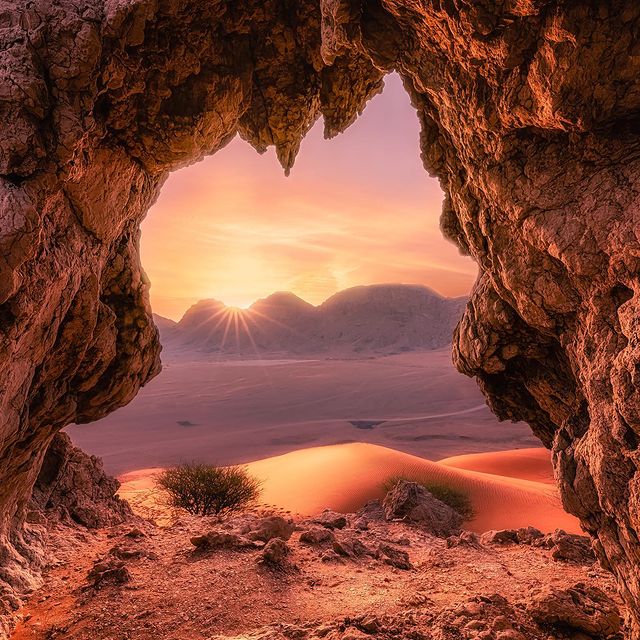 You need to be an early riser to catch the view (and avoid the heat)
I visited and halfway climbed this location to shoot sunset last week, but the temperature was about 50°C (122°F) and that made the sand red hot which also made the vertical climb so difficult and dangerous that I had to come back down. On the way home, all I kept saying to myself was that I have to go back. So this morning I headed out at about 4am, got there early and began to set up just before sunrise. The vertical climb was still difficult but since there was no sun, it was bearable. In fact I was about 20 min early which worked out great for me to take a few test shots. When the sun finally came into frame I was all smiles. It was worth coming back for. If you watch my stories the day of this post then you get to see the entire adventure and the before and after for the edit. Special thanks to @mat_gec for the location
Flights are resuming, furloughed pilots are being brought back, borders are slowly but surely opening back up, reducing quarantine periods, countries are welcoming tourists once again… so things are looking up!
And with that being said, if you're one to be painted in wanderlust then your summer is definitely looking up! As UAE travellers planning their summer getaways can now choose from over 30 cities in 19 countries across the Emirates network that have opened their doors for tourism and business, where you will NOT need to self-isolate!
The list of quarantine-free destinations includes countries across Europe, the US, Middle East, Africa, and other popular island getaways