coronavirus
UAE Trial: 96% Of Children Developed Antibodies From The Sinopharm Vaccine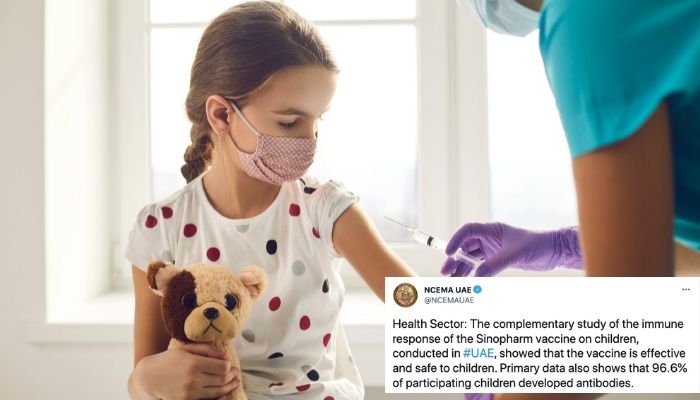 UAE Trial: 96% Of Children Developed Antibodies From The Sinopharm Vaccine
Little science lesson for ya: antibodies are found in the blood, they're created by your immune system and they fight the virus that causes COVID-19, according to the CDC. Of course they're made after you have been infected or you took the vaccination against the virus.
Little science lesson over, now let's talk statistics! 900 volunteers, from the ages 3 to 7, have participated in a study after receiving the Sinopharm COVID-19 vaccination.
As you may have heard, earlier this month, the UAE approved the Sinopharm vaccine to children between the ages of 3 and 7.
More than 96% of the children who participated in the UAE Sinopharm trial developed antibodies

The Sinopharm study also indicated that minor side effects were reported
That's awesome right? Also, no major side effects were reported among the 900 participants. The following information was revealed during the government's COVID media briefing.
Officials noted that 29.7% experienced pain at the injection site, 9% had a headache, while 3.7% had a fever. NCEMA are advising "all parents to provide protection and safety for their children by giving them vaccinations available in various health centers."
Stats showed that 8 out of 10 patients who were admitted to hospitals were among the unvaccinated cases. 9 out of 10 patients who were admitted to intensive care were also unvaccinated. So while you may still be vulnerable to COVID-19, the symptoms and risk of hospitalisation will be far less.