Announcements
Etihad Airways Flights To The USA Will Not Be Effected By Recent Flight Suspensions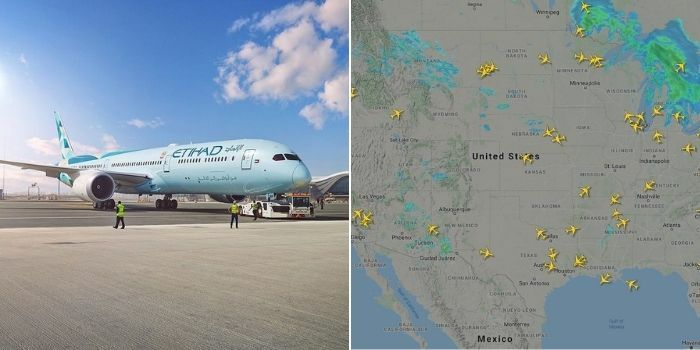 The Dubai airlines, Emirates Airlines, recently announced the suspension to 9 US cities due to the 5G roll-out.
Emirates Airlines suspended flights from Boston, Chicago, Dallas Fort Worth, Houston, Miami, Newark, Orlando, San Francisco and Seattle, until further notice. Emirates flights to New York JFK, Los Angeles and Washington DC continue to operate as scheduled. The decision has come into effect as of today at 9am (Gulf Standard Time).
With that being said, the Abu Dhabi-based Etihad Airways says passenger flights will not be affected by the suspension
Image on the right is used for illustrative purposes only, via Flightradar24.
So far today, Air India, ANA, Japan Airlines, and Emirates have cancelled some services to the United States due to concerns the deployment of 5G wireless networks could affect the radio altimeters in the aircraft used on these routes. pic.twitter.com/xkFtRauxCk

— Flightradar24 (@flightradar24) January 18, 2022
Emirates is suspending the flights due to the operational concerns of 5G technology at the American airports
Those who have tickets to those cities are advised to contact the Emirates Call Centre or their travel agency to rebook their flight. It's been said that thousands of flights can experience delays if the systems are introduced near major airports.
Emirates added a statement to their website stating:
We are working closely with aircraft manufacturers and the relevant authorities to alleviate operational concerns, and we hope to resume our US services as soon as possible.