Latest
A Dubai Vlogger Tours The Vaccine Storage Facility In The UAE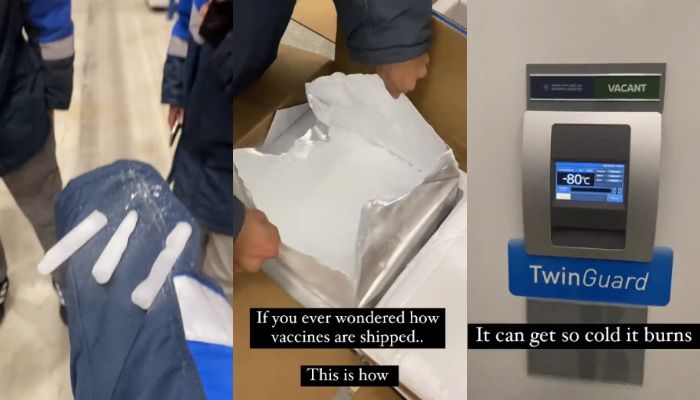 So most of us have gotten at least the first dose of the vaccine. At least 77.62% of the UAE population did, according to NCEMA. This is awesome news! Although we know quite a bit about the vaccines, we never got the inside scoop on their storage systems. Which, BTW is very interesting.
A Dubai vlogger known as Nas Daily took a tour of the Hope Consortium of Abu Dhabi where the vaccines are received and stored.
Nas Daily stood in the CHILLY -22 degrees Celsius storage facility of COVID-19 vaccines
The vaccine are kept in storage containers that are -80 degrees Celsius
The footage this vlogger got is impeccable! He stated that the vaccines are shipped to this location and are stored only for a day or two. Naturally, their storage containers are COLD. When we say cold, we mean -80 degrees Celsius kinda cold.
What keeps the storage containers cold to this temperature, is a BUNCH of dry ice
Dry ice has a surface temperature between -78 and -110 degrees Celsius. Brrrrr. And of course it can't make direct contact with your skin. As Nas Daily said "[it's] so cold it burns"
If you were ever curious how the vaccines are stored, this is how!
Within the cardboard box that's safe for shipping, they're stored in layers of styrofoam boxes that have dry ice within them and some sort of insulating wrap. And that's the inside scoop, folks!