Inspo
The Burj Khalifa Costs AED1.5 Million To Light Annually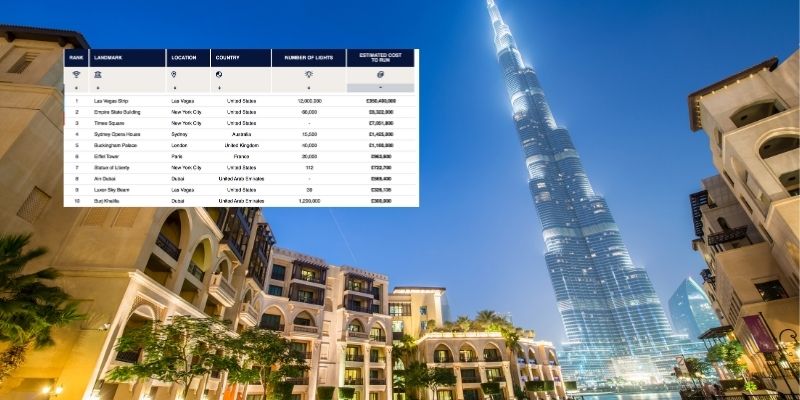 The Burj Khalifa Costs AED1.5 Million To Light Annually
Whuuda' thunk it!
From a list of the top 10 landmarks in the world, the world's tallest tower is actually the cheapest to light.
Ranking in at number 10 from a list that includes the Las Vegas Strip, the Empire State Building and Times Square, Dubai's iconic tower is the cheapest landmark to light, costing AED1.5 mill to illuminate its 1.2 million lights.
A list by Smart Lighting shows exactly how much it costs to light each landmark… and it ain't cheap.
The Burj Khalifa is famous for its light shows and spectacular LED displays
View this post on Instagram
The Burj Khalifa is actually 'green' thanks to its solar panels and ranks tenth overall
It features 1,200,000 lights in total and saves 3,200 kilowatts of energy daily thanks to the solar panels, keeping costs relatively low in comparison with other landmarks.

The Las Vegas Strip is the most expensive attraction in the world to light and costs a whopping $USD483 MILLION to keep the 12,000,000 lights glowing
View this post on Instagram
Today, HH Sheikh Mohamed bin Zayed Al Nahyan, Crown Prince of Abu Dhabi and Deputy Supreme Commander of the UAE Armed Forces turns 60 and this is a brief snapshot of the momentous year gone by.
From taking Arabs to Mars and fighting the COVID pandemic to remaining the stable backbone and navigator of this great country through positive relations here and abroad.
1. 50 years after the UAE was born and 60 years after the birth of MBZ, HH is with the team as an Arab spacecraft enters the Mars orbit for the first time