Announcements
UAE Residents Will Only Be Able To Spot Jupiter & Venus In The Night Sky Until The 3rd Week Of March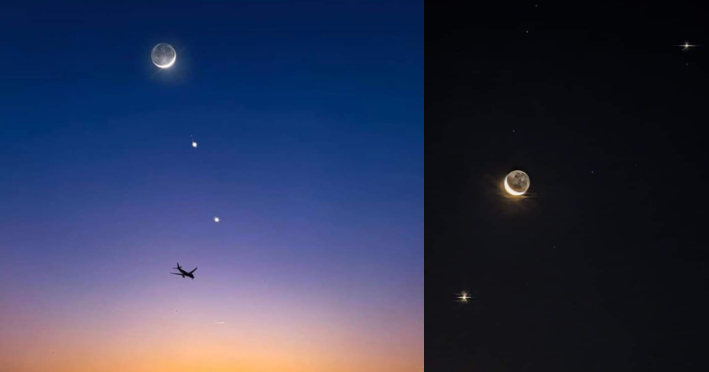 If you were wondering what those bright objects are that you see right after sunset, don't worry, it's not aliens. It's just good old Jupiter and Venus.
These two planets are the stars of the show, illuminating bright and appearing within eyeshot to UAE residents until the third week of March, starting at 7pm. They shine brighter than any other planet besides the sun and moon because they have clouds that reflect more light.
And get this; they're so close to Earth that you don't need a fancy telescope to see them. Venus is even brighter than Jupiter because it's closer.
Attention skygazers: Witness Venus and Jupiter hanging out like two peas in a pod! At twilight today (March 1), catch the pair above the western horizon during sunset and just a little bit after. Details on this and other events: https://t.co/Dz0MN3F6D0 pic.twitter.com/qXAagzI6aU

— NASA (@NASA) March 1, 2023
Various Twitter users shared stunning images of a planetary conjunction that occurred in the night sky, accompanied by the Moon
Moon, Venus and Jupiter. 🌙✨

📸 Credit: Shakti Sharma pic.twitter.com/Rdxdrk6WuF

— Amazing Astronomy (@MAstronomers) February 28, 2023
Watch The Lovin Dubai Show: Liftoff! The Longest Arab Space Mission Launches At 9.34AM
ALSO READ: Sujith Varghese Is The First Person of Determination In A Wheelchair To Became A Personal Trainer In Dubai
Get the latest Dubai news direct to your phone RN! Download The Lovin Dubai app for free RIGHT HERE (App Store) (Play Store) to get the latest trending stories to your phone.
Subscribe to our Newsletter.
Get the best of your city straight to your inbox.