Community
A Member Of The Dubai Police Was Fanning Lebanese Nationals At The Elections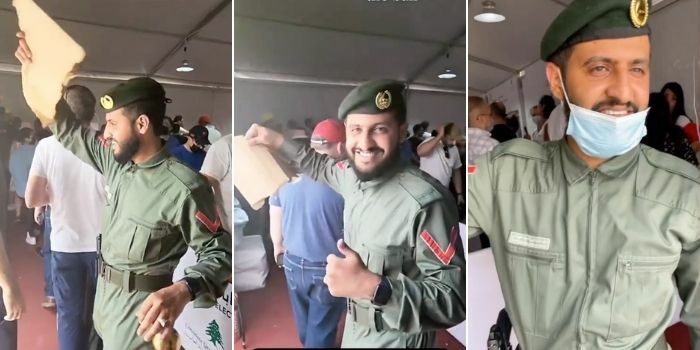 It was hot, humid, and crowded and the queue was 1km long. Those factors did not discourage Lebanese nationals from voting in the parliamentary elections today across Dubai and Abu Dhabi.
Lebanese nationals queued at the back of the line to get their vote in and in an exemplary and orderly fashion.
A member of the Dubai Police was using a cardboard sheet to fan everyone walking in
زحمة غير مسبوقة في #دبي الاف اللبنانيين ينتظرون الادلاء باصواتهم. نحو 20 الف شخص يحق لهم التصويت. #إنتخابات_المغتربين 🇱🇧🗳
pic.twitter.com/tlD3cdfEx2

— Salman Andary (@salmanonline) May 8, 2022
Many have documented the Dubai Police officer who was fanning the Lebanese nationals entering the consulate
Those who were standing out under the sun were met with a cool breeze by the officer! At the end of the day, everybody walked out with purple thumbs and they made a difference for their country, from the UAE.
View this post on Instagram