Community
The Dubai Media City Concerts Were Something Dubai Peeps Cannot Stop Talking About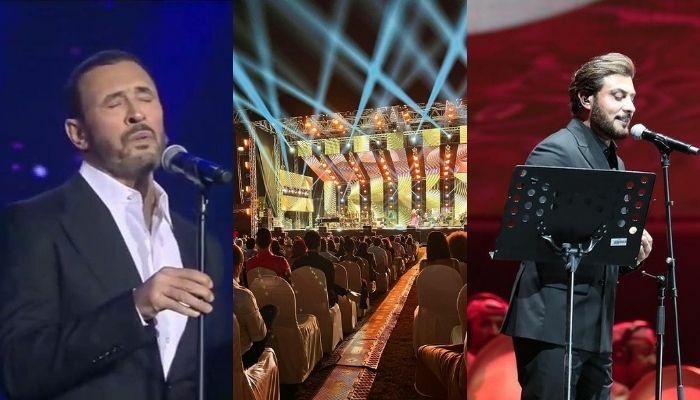 Last weekend was concerts on concerts that Dubai peeps didn't know where to go first! There were concerts over at Expo 2020 Dubai, the Coca-Cola Arena, SOHO Garden DXB, and Dubai Opera which were impeccable but our eyes were set on the AMAZING Arab artists who took centre stage at the Dubai Media City Amphitheatre.
Legendary singers from all around the Arab world came together for a FANTASTIC event that left us all in awe since November 26, brought to you by HuManagement!
The weekend may be over but we can't get over those FAB performances by the biggest Arab artists
View this post on Instagram
The iconic Kadim Al Sahir took the audience down memory lane with his performances of his greatest hits
Every Arab child grew up listening to Kadim Al Sahir. Although his songs are deep, meaningful and powerful, even the kids enjoyed them! It was a magical performance that had everyone up on their feet.
"هلو حياتي هلو روحي وردة
حضن الحبيب أحلى من المخدة" ❤️#كاظم_الساهر_في_دبي pic.twitter.com/NE244Tk0As

— رابطة عشّاق كاظم الساهر في العالم العربي (@KadimAlSahirKSA) November 26, 2021
Assala Nasri just NAILED her performance
Assala is KNOWN for her powerful voice and poetic lyrics and she did not disappoint during last weekend's performance. Everyone in the crowd was singing along to her most amazing hits.
View this post on Instagram
Everybody was excited to see Majid Al Muhandis
Well of course everybody would be, he's one of the biggest names in the Arabic music world and he's in Dubai! And let's just say that performance was show-stopping.
– لحظة دخول البرنس للمسرح 🤍#ماجد_المهندس_في_دبي pic.twitter.com/w3Ydkbz2CO

— 𝗢𝘂𝗿 𝗠𝗮𝗷𝗶𝗱 (@OurMajiid) November 27, 2021
Majida El Roumi put on a sensational performance last weekend
Classical music fans were all over this concert as famed Leabesne soprano Majida El Roumi gave it her all! It was the perfect start for the concerts ahead. She set the TONE and gave one hell of a speech that everyone was raving about!
View this post on Instagram