Dubai
Former America's Next Top Model Contestant Don Benjamin Proposed To His GF In Dubai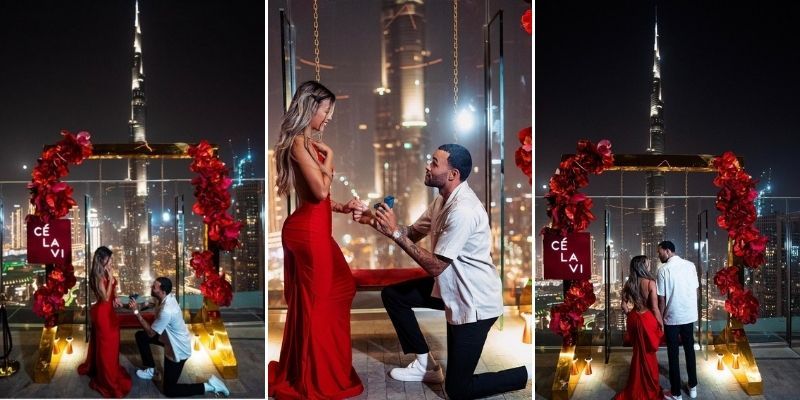 Former America's Next Top Model Contestant Don Benjamin Proposed To His GF In Dubai
It turns out Don Benjamin, former America's next top model contender, had other plans in mind when he traveled alongside longtime girlfriend Liane V to the UAE. 
On Thursday, the two content creators shocked their combined following of 6 million+ 
…with none other than a proposal that fits right in with the city's over-the-top glam vibe! 
As YOU do. 
Overlooking the Burj Khalifa, Benjamin got down on one knee at Ce La Vi (that rhymes!)
Right after the proposals took place, the two shared their sentiments not just on how fabulously the proposal went but the journey of their relationship over the years.
Liane V, an influencer and the now fiancé of Don Benjamin shares how they've been together, broken up, and were brought back together by a higher power and have to consistently work to make their partnership work. 
View this post on Instagram
In an adorable statement, Liane expressed her joy over the surprising proposal:
"So this happened. Since I was a little girl, I've always loved watching romance and Disney movies. The princess always found love and lived happily ever after. It painted a picture of what love should look like. But what I've learned through the years. Love isn't just a perfect fairytale. Relationships don't last because of the good times; they last because the hard times were handled with love, communication, hard work, forgiveness, patience, and understanding. Me and Don have been through a series of ups and downs. We've broken up before and took our space apart, worked on ourselves and somehow God brought us back together. Better, wiser, and stronger."
The two further announced their marriage in a YouTube video! Watch below:
This is TOO sweet!
In her Instagram post, Liane also added that "love is a partnership, love is supposed to bring out the best out of each other. I knew in my heart, what was meant to be will happen. My faith and focus in God, my self love, and growth has somehow brought me back to him. I do believe people can change for the better, but they have to want it and do the work for themselves. Because I'm definitely not the same person I was last year. And the past year I've also seen Don transform to become the man I've always believed he could be. Our bond has grown so much stronger through this journey. We were put on earth to evolve, grow, and learn from our past. And Not falling in love with your partner, but RISING in LOVE. We are moving with purpose. 🔥🙏🏽❤️ Thank you to everyone who has been a part of this journey! This is just the beginning of a beautiful chapter."
View this post on Instagram
The two were recently in Abu Dhabi – to wrap up filming for a new movie called 'North of The 10'
View this post on Instagram
They also spent time at the Louvre Abu Dhabi
View this post on Instagram
And Liane got to catch up with Middle East's biggest YouTuber Noor Stars
View this post on Instagram
It's only fitting that they announce tying the knot in the BEST city in the world, Dubai
Congratulations!
View this post on Instagram