Latest
Former NFL Player Antonio Brown Flashed A Woman In A Public Pool In Dubai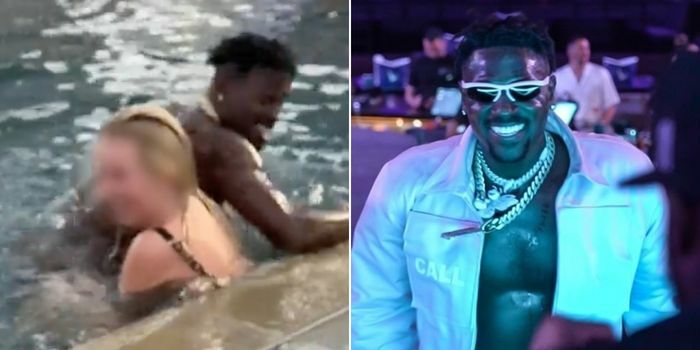 American football player Antonio Brown has been receiving massive backlash on social media after a video of him flashing a woman in a swimming pool has gone viral.
The video was reportedly taken in Dubai in May 2022.
In the video by New York Post, Antonio can be seen exposing his genitals to a lady while in a hotel swimming pool.
In the audio one can also hear several other friends cheering him on.
WARNING: The video below contains sensitive content (nudity) 
This is sexual assault. And every man watching & egging it on is complicit. My gosh. Antonio Brown is a danger to society.

He puts his butt in her face twice. He wraps a scarf around her head & shoved her under water. He's naked and grabs her from behind then flashes his junk. pic.twitter.com/bC6ANkgkaU

— Top-Of-Mind Rocky 🇺🇸 (@wavechaser2024) October 1, 2022
The woman was reportedly upset and had filed a complaint with the hotel
The New York Post also reported that Brown was asked to leave the hotel after the incident. They also added that the hotel had received several complaints regarding his behaviour from other customers too.
"The complaints included Brown allegedly snubbing United Arab Emirates dress-code customs by flaunting his bare chest to guests inside the hotel, and smoking what they believe smelled like marijuana in his room, which would violate the country's law."
The fall of Antonio Brown has been quite the story. pic.twitter.com/ygpi7mLudX

— Primetime Sports  (@Primetime2828) October 2, 2022
Antonio took to Twitter to respond to the allegations, claiming that the woman had run off with his swim trunks
Every chance they get to sway the heat off themselves they use me. In the video you can clearly see she runs off with my swim trunks. If roles were reversed the headlines would read "AB having a wild night with nude female".Yet when it's me it automatically becomes a hate crime

— AB (@AB84) October 1, 2022
He claimed that the allegations were biased because he was black, and that black men were being used as guinea pigs
It's crazy to me that even after I retire there is disinformation coming out about me. Ironically, during a time when the NFL is getting heat for allowing players to play when they're clearly concussed. They've been using black men as guinea pigs.

— AB (@AB84) October 1, 2022
Previously, Brown was in the news for running naked across the MetLife Stadium
The incident occurred after an argument with the coach.
He was suspended from the first 8 games of the 2020 season for violating the NFL's personal conduct policy. He had also been sued for sexually assaulting his former female trainer Britney Taylor.
Several fans took to Twitter to express their disappointment with the player
Antonio Brown was one of the best WR's in the league. HOF worthy. His talent absolutely insane and a true gift to watch.

Seeing him now, it's sad. Devastatingly sad.

— taylor (@ay_taybay) October 1, 2022
Antonio Brown went from the number 1 wide receiver in the league to a sex offender. That 30 for 30 is going to be insane.

— Depressed Steelers Fan (@Notdojaaa) October 1, 2022