Announcements
Here's Everything That's About To Go Down At The Yasalam After-Race Concerts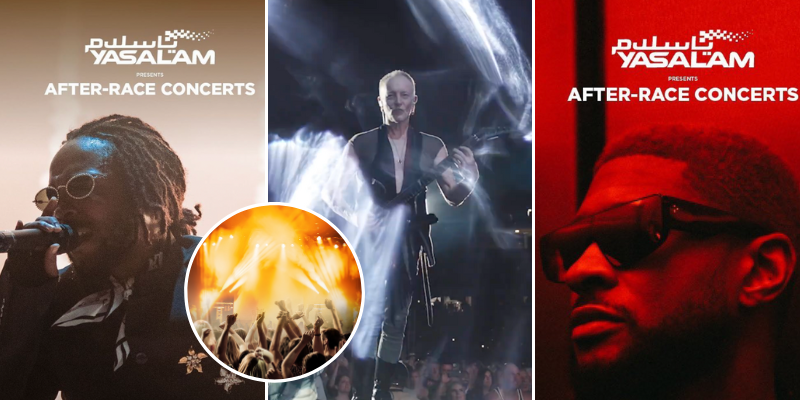 The Abu Dhabi Grand Prix is set to kick off next week and the Yasalam After-Race race concerts is where the party is really at. After all the adrenaline of the F1 has cooled down, Yasalam will definitely keep you on your feet.
The Yasalam After-Race Concerts will be PACKED with a crazy lineup ready to thrill the crowds
All Abu Dhabi Grand Prix ticket holders have exclusive access to these concerts for the four-day event, and the best part is, no PCR tests are required!
Watch Usher and Dave light up the stage on Thursday November 17
The King of R&B, and eight-time Grammy winner will be owning the stage on Thursday. Fans are in for a double delight as UK rap artist Dave will also be performing on the same night to create the perfect kick-off of the Yasalam After-Race Concerts
View this post on Instagram
Jump to every beat drop with Swedish House Mafia's set on Friday November 18
The sensational DJ group is definitely going to start your weekend right by bringing all your favourite beat drops, for a night to remember.
View this post on Instagram
Rap your favourite verses with legendary artist Kendrick Lamar on Saturday November 19
The multi-platinum Grammy award-winning sensation, Kendrick Lamar, will be spitting his amazing bars onstage on day 3 of the Yasalam After-Race Concerts.
View this post on Instagram
Curtains close with Def Leppard's rock hits
Hall of Fame rock legends, Def Leppard, will be performing after the F1 season finale, and it's every rock lover's dream.
View this post on Instagram
The important bits
Where: Etihad Park, on Yas Island, Abu Dhabi.
When: November 17-20
All F1 ticket holders have access to Thursday's Concerts
1-Day tickets – can access the concert on the day of their ticket as well as Thursday's concert
2-Day tickets – can access the concerts on Thursday, Saturday and Sunday
3-Day tickets – can access all 4 concerts from Thursday to Sunday
Get your Golden Circle Upgrades now for an unreal experience and closest access to the stage!