Food
The Top 25 Restaurants In Dubai In 2019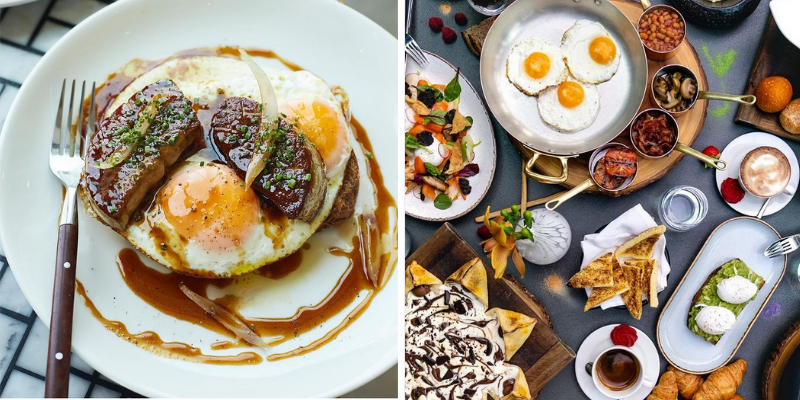 Get ready to work up an appetite this summer for we present the top 25 restaurants that you MUST try out this summer. Not only do they serve up a great meal and are located in some of the best venues in Dubai, but they're perfect for literally any meal with friends and family!
How did Lovin Dubai choose the final list?
Finalists were selected from all across Dubai
Online reviews, previous media coverage and notable blogs were also included in the overall rating
The final list is subjective – if we've missed out on any must-try places across Dubai, please do let us know!
The brand's social media audience and engagement were considered
25. Abd el Wahab, Downtown Dubai
Lebanese food, yaaaas. True to it's Lebanese roots, Abd el Wahab serves you authentic Lebanese food, and also features a variety of Middle Eastern dishes. Abd el Wahab offers exceptional views of the Dubai Fountains and the Dubai Marina with exceptional food and great hospitality.
Not to mention the staff are all Lebanese!
Book here.
View this post on Instagram
24. McGettigan's, Jumeirah Lake Towers
You've not experienced Dubai, until you've been to McGettigan's. An Irish pub through and through, you simply won't find better Irish pub grub in town. Ideal for breakfast, lunch and dinner, or just a good ladies night out, McGettigan's provides offers throughout the week.
With an large indoor area and a fully revamped outdoor terrace, this is a brilliant spot to hit all year long.
View this post on Instagram
23. Villamore, Emerald Palace Kempinski
Described as a "beachside hideaway", Villamore is more toned down and breezy as opposed to the hotel in which it is situated in, that is, the Emerald Palace Kempinski.
Lay back and enjoy French Mediterannean meals consisting of top quality, seasonal and fresh meats and fish. Upon sunset, the vibe switches from a chilled and relaxed atmosphere to a more let's-kickstart-the-weekend feel with the DJ team.
Book here.
View this post on Instagram
22. Hakkasan at Atlantis, The Palm
With a young, bustling energy, Jumeirah Hakkasan enthusiasts were relieved when the new joint was opened in Atlantis the Palm. The restaurant presents a menu that has been awarded multiple Michelin stars and features signature dishes presented in a traditional sharing style.
Don't miss out on their low lit terrace view which is promised to complement every meal.
Book here.
View this post on Instagram
21. Carnival by Tresind, DIFC
Introducing post-modern Indian cuisine to the world, the eatery brings the whole carnival theme to life with its vibrant decor and diverse cuisines.
Guests can also enjoy mocktails and cocktails from the bottled glass ceiling open bar. Sigh how dramatic, loves it! The food takes you back to Indian childhood days and promises a true carnival of flavours on your palette.
Book here.
View this post on Instagram
20. Al Falamanki, Jumeirah Beach Road
Who doesn't crave good Lebanese food once in a while? That's right, no one! Al Falamanki brings Beirut to life with its fresh ingredients and fragrant herb filled cuisines.
Not only is the food great, but so is the ambience, where in it is a very homely atmosphere with quirky mismatched furniture and is a great place to bring visitors touring Dubai.
View this post on Instagram
19. Scalini, Four Seasons, Jumeirah Road
Presenting to you fine Italian dining with a "contemporary twist", Scalini has a carefully curated menu and the Scalini in London, has been a long time favourite of many renowned celebrities like Kate Moss, members of The Beatles, Johnny Depp, Jude Law, Cheryl Cole to name a few.
With a terrace space for quiet dining the eatery also gives off city vibes with its contemporary art. This Italian restaurant is the epitome of Italian fine dining.
View this post on Instagram
18. Asia Asia, Marina Promenade
It's so good you had to say it twice! With a vast array of Japanese, Thai and Chinese cuisines, the endless menu has an endless number of combinations as well.
With impeccable service from staff, sophisticated with a get-ready-for-a-really-cool-party kind of vibes, Asia Asia, is THE place for a good evening out with some gooood food.
Book here.
View this post on Instagram
17. Robertos, DIFC
Sometimes all you need is a pleasant terrace view, a nice bar, good Italian food and great company, and you very well know Robertos has just that.
Fine Italian dining can be experienced at this award winning restaurant where in guests can create their own Roberto experience by choosing "à la carte dishes", and meals are prepared using some of the best Italian ingredients. Bellissimo!
Book here.
View this post on Instagram
16. Carine, Emirates Golf Club
Brainchild of Chef Izu, Carine, named after his wife (next level couple goals here), is one the chef's most successful ventures to date.
With a wholesome interior of pleasant colours and homely interior deco, the restaurant overlooks the Emirates Golf club, and the view can be enjoyed with some cocktails, Izu's freshly baked bread (don't miss out on Carine's homemade apple and plum jam) and the array of French Mediterranean cuisines.
View this post on Instagram
15. Le Petite Maison, DIFC
This quaint restaurant is inspired by Southern France, and an offshoot of a French chain cafe situated in Nice. The interior deco is kept minimalistic with muted cream colours, and it all exudes a fancy but not-too pretentious vibe and is a perfect place for a romantic night out.
Serving up Nicoise cuisine, the food also takes inspiration from Italy.
Bon appétit!
View this post on Instagram
14. Jones the Grocer, Al Manara
A Sydney-born Australian food emporium with a cafe and deli, Jones the Grocer is one of the cutest joints in town. Offering a wide range of traditional Australian grub, it also offers a plethora of beverages, sandwiches, soups and quick bites.
Every Thursday, Jones offers unlimited red and white wines with cheese boards for AED199 from 7.30pm onwards, and guests can enjoy a beautiful view of the Emirates Golf Club.
View this post on Instagram
13. Bistrot Bagatelle, Fairmont Hotel SZR
With a carefully curated menu of delicacies inspired from France and the Mediterranean, guests cannot and should not miss out on their signature dish, aka the cheese truffle pizza.
You are treated to luxury and fine dining and can also feast your eyes on their eye for art, wherein the restaurant is furnished with contemporary Marvel inspired pieces. With a different and engaging theme created for every night of the week, Bistro Bagatelle promises good food and a great time.
View this post on Instagram
12. Nola, Jumeirah Lake Towers
This eatery, cleverly named after the moniker of New Orleans, not only draws inspiration from the Louisiana state but offers top of the state deep South food, and their paella is considered to be the ABSOLUTE best in Dubai.
You heard us. For ladies especially, Nola provides amazing ladies nights with upbeat jazzy music and quirky and fun cocktails.
Book here.
View this post on Instagram
11. Marina Social, Dubai Marina
An amalgamation of solid British food with a modern twist. Marina is the place to be. A perfect place for a nice brunch out with mates or dates, the Marina Social offers a British menu with Mediterranean influences and an amazing selection of wine. Also don't miss out on the exquisite view of the Marina waterfront.
Weekend= sorted.
Book here.
View this post on Instagram
10. Gaia, DIFC
Greek again? Lovin it. Considered to be one of the most attractive dining spaces in town with its monochrome pastel interiors, Gaia is also a force to be reckoned with in terms of cuisine. Belonging to Chef Izu, the man behind Carine, La Serre and Le Petite Maison, it serves up and authentic Greek menu where guests can also enjoy hand-crafted cocktails.
The devil here is truly in the details, as the flavours and appearance of these cocktails resonates with the sun, sea and the mountains, rightfully so, as Gaia is the Grecian goddess of the Earth.
View this post on Instagram
9. Avli by Tashas, DIFC
Greek food. Period. We already love it. This is a very new resto, but it's already made a huge impact on the Dubai dining scene. Another string to the bow of prominent Dubai restaurateur Natasha Sideris. The food is fantastic and one foot inside this cavernous DIFC eatery and you'll know it means business.
The restaurant boasts a great mix of Graecian cocktails and traditional food, and it was first visited by none other than HH Sheikh Hamdan bin Rashid Al Maktoum, Crown Prince of Dubai.
View this post on Instagram
8. Thiptara, Downtown Dubai
Where are our Thai food lovers? Because this is THE place to be for top notch royal Thai food, with their own reinvented touch to the cuisine.
The Thiptara, inside Palace Downtown hotel serves some of the best Pad Thai, beef panang and tom yum soup in Dubai and even some of Bangkok's world renowned street food, in an ambient setting. Have you wanted to take that special someone out for a while now? Well, you know the place to go.
View this post on Instagram
7. Armani Amal, Downtown Dubai
With a stunning and we mean STUNNING view of the Dubai fountain, the Armani Amal has been declared as one of Dubai's finest Indian restos.
Drawing inspiration from various Indian states, like the bustling streets of Chennai to the serene coasts of Goa, it combines luxury, home and comfort food, and did we mention the view of the fountain?
Book here.
View this post on Instagram
6. Il Faro Trattoria & Lounge, Palm Jumeirah
Are you ready diners? Aye aye cap'n! This quaint eatery situated in Palm Jumeirah consists of a bar and pizzeria and mind you, there's some seriously good pizza here. With a wide selection of various seafood dishes, the restaurant serves traditional Italian dishes that appeal to fitness enthusiasts as well.
A perfect place for a cute date, you also have a clear view of the Burj Al Arab and Burj Khalifa. Contended 10/10.
Book here.
View this post on Instagram
5. Little Miss India, Fairmont The Palm
Let Mohini Singh, the mistress of the mansion lead you through a gastronomical adventure of everything India.
That's right, bring on the spice! Located at Fairmont the Palm, the restaurant boasts colour and diversity, and guests get to enjoy fragrant mocktails and beverages served from a, wait for it, a colour-boasting TRUCK! Oof, Little Miss India, neither holds back on the show nor the food.
Book here.
View this post on Instagram
4. Folly by Nick and Scott, Madinat Jumeirah
So get this, guests get to watch and talk to chefs as they work, and can have a tasting menu to talk you through each of the chef's favorites being prepared.
Folks you're getting both a meal and some know-how served at the Folly! With a garden and terrace lounge overlooking the Burj Al Arab and the Arabian Gulf, it is the perfect place to sip on some chill refreshing cocktails and have a taste of some of their reinvented take on contemporary dishes.
Book here.
View this post on Instagram
3. THE Maine, The DoubleTree by Hilton
With sumptuous, hearty, instagrammable food, what more could a person ask for from a restaurant? And not to mention their steak which is insanely good!
The Maine in Doubletree by Hilton, offers some of the best seafood in town and is one of the most happening eateries for a good night out with your girls. So grab your mains and head out to The Maine.
Book here.
View this post on Instagram
2. Nobu, Atlantis
A seamless blend of traditional Japanese dishes with Peruvian ingredients, Nobu in Atlantis is a must-go-to on every foodie's bucket list.
With a striking and sophisticated, but comfortable interior, it is a well known fact that you haven't lived until you have tried their signature dish aka the miso marinated black cod. Itadakimasu!
Book here.
View this post on Instagram
1. Weslodge, JW Marriott Marquis
The Canadian restaurant/bar concept is located on the 65th floor of JW Marriott Marquis in Business Bay, and you know what that means right? Not only do you get to enjoy the 'heights' of modern Canadian comfort food (geddit), but guests also get to feast their eyes on the breathtaking view of Downtown Dubai and Burj Khalifa.
Whether you're going for casual cocktails, or looking for a fantastic meal with no gimmicks, Westlodge is the top spot.
Book here.
View this post on Instagram