Coronavirus
Dubai Eases COVID-19 Restrictions Citywide - Effective Immediately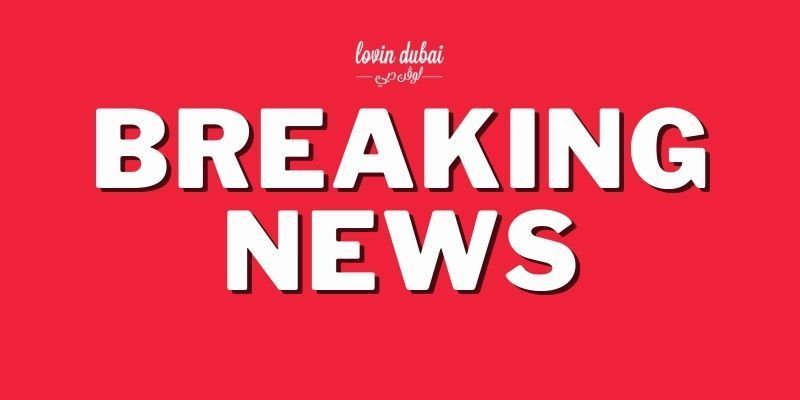 Dubai's Supreme Committee of Crisis and Disaster Management has announced revised COVID-19 precautionary measures for events and restos throughout Dubai.
All updated measures are to come into effect from today, Monday, May 17. However, wearing a face mask and observing social distancing in public will still be mandatory.
List of revised regulations include:
1. Restos being able to seat 10 persons per table
2. Coffee shops to now allow 6 per table 
3. Indoor events to allow 1,500 attendees 
4. Outdoor events to allow 2,500 attendees 
5. Entertainment venues can have increased capacity of 70% 
6. Occupancy ceiling of hotels raised to 100%
7. Attendance at wedding events at homes is capped at 30, with compliance to COVID-19 regulations
8. Restaurants are allowed to resume brunches with strict observance of updated precautionary measures outlined by authorities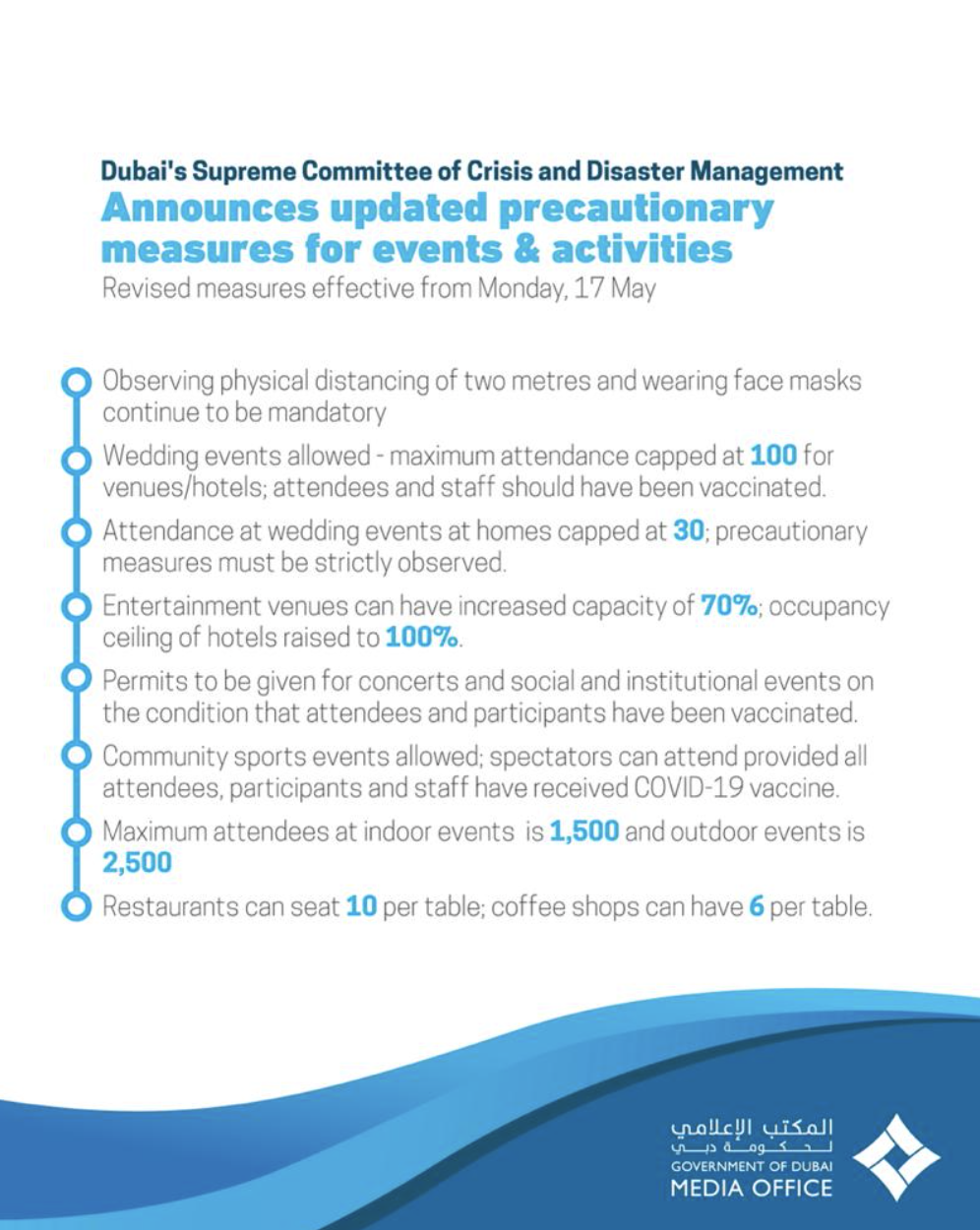 Those who are vaccinated will be able to move around more freely!
Revised regulations go on to mention that:
1. Wedding events are allowed to be held with a limit of 100 attendees per venue and ALL attendees and staff should have received the COVID-19 vaccination
2. Sports events will now be permitted to allow spectators; provided that all attendees, participants and staff have received the COVID-19 vaccine
3. Concerts and social as well as institutional events can take place; provided that attendees and participants have been vaccinated
4. Live entertainment and activities are allowed to be held in restaurants, cafes and shopping malls for a trial period of one month (extendable) starting 17 May on the condition that the latest precautionary measures are observed and performers and entertainers have taken the COVID-19 vaccine
Wedding events allowed to be held with the maximum attendance capped at 100 for wedding venues/hotels; all attendees and staff should have received the COVID-19 vaccination. Attendance at wedding events at homes is capped at 30, with compliance to precautionary measures.

— Dubai Media Office (@DXBMediaOffice) May 17, 2021
ALSO READ: Traffic Billboards In The UAE Display Solidarity With India

Listen To The Lovin Daily: Good News! Abu Dhabi Will Lift Quarantine Restrictions On July 1
— Lovin Dubai | لوڤن دبي (@lovindubai) May 17, 2021
The Next Long Weekend In Dubai Will Last For 6 DAYS!
So in exciting news, UAE peeps can expect a 6-day long weekend after 10 weeks, around Monday, July 19 on the occasion of Eid Al Adha
But the dates as usual will be subject to moon sighting and will have to be confirmed by the UAE officials.
Holidays for the public sector will be announced by the Federal Authority for Government Human Resources, while holidays for the private sector will be confirmed by the Ministry of Human resources and Emiratisation. Official holiday dates will be confirmed by authorities closer to the expected dates.
But if the dates go as per prediction then private and public employees could get to enjoy three days off plus the two day weekend! so that's July 19 till July 24.