Community
Heavy Rainfall Has Caused Waterfalls At The Foot Of The UAE's Largest Mountain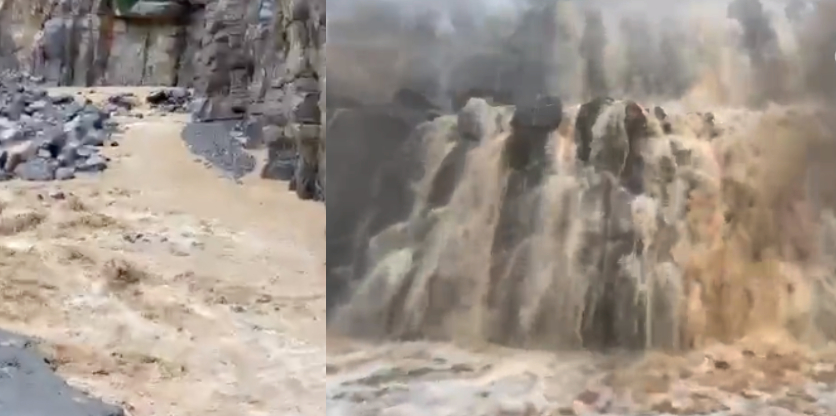 Apart from the Khorfakkan Waterfall, do we know of any other waterfalls in the UAE?
The answer is, no… not really.
So how can you blame UAE peeps for getting excited over visuals of the rain-induced waterfall on Jebel Jais?! The footage, posted by the National Centre of Meteorology (NCM), showed a gushing waterfall cascading down the mountainside – of the UAE's highest peak – and into the road.
Temperatures are expected to drop to 6°C at night and remain at 10-11°C during the day at the RAK mountain range.
حالياً جبل جيس #رأس_الخيمة #المركز_الوطني_للأرصاد #أمطار_الخير #أصدقاء_المركز_الوطني_للأرصاد #حالة_الطقس #حالة_جوية #هواة_الطقس #محمد_الشحي #فريق_العواصف pic.twitter.com/BjXWLqKRop

— المركز الوطني للأرصاد (@NCMS_media) January 3, 2022
The torrential rains have been pouring down with an intensity last experienced in 2019
An average of 100mm of precipitation is recorded in the UAE every year, however, the Saih Al Salam region in Dubai has already recorded 141.8 mm of rain within the first three days of the new year!
حالياً وادي شحة #رأس_الخيمة #المركز_الوطني_للأرصاد #أمطار_الخير #أصدقاء_المركز_الوطني_للأرصاد #حالة_الطقس #حالة_جوية #هواة_الطقس #محمد_الشحي #فريق_العواصف pic.twitter.com/1LF7D5Tx3D

— المركز الوطني للأرصاد (@NCMS_media) January 3, 2022
Dubai peeps can expect cloudy skies, light drizzles and strong winds to persist until Wednesday
Although, residents should prep for more rain in the coming weeks as the NCM has confirmed that cloud-seeding jets are in action to try to prompt more rain clouds.
الطقس المتوقع ودرجات الحرارة العظمى والصغرى على مدن الدولة للأيام القادمة#المركز_الوطني_للأرصاد #درجات_الحرارة #الرطوبة_النسبية #دولة_الإمارات_العربية_المتحدة #طقس_الإمارات pic.twitter.com/IS1nNhR283

— المركز الوطني للأرصاد (@NCMS_media) January 3, 2022