Latest
Good News! Spreading Of New Prayers Rugs In The Grand Mosque Has Been Announced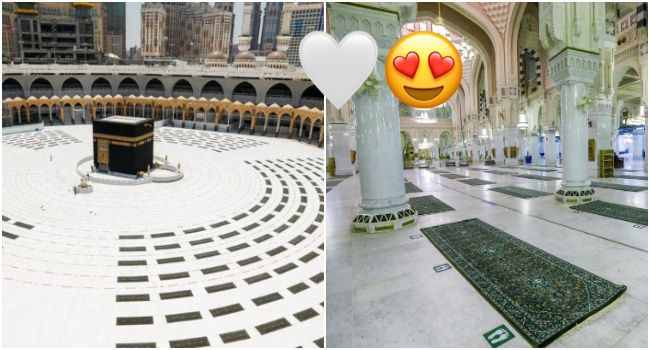 The General Presidency for Affairs of the Two Holy Mosques announced yesterday the spreading of 9,000 prayer rugs. Each rug will accommodate three people to perform prayers in compliance with the precautionary measures of social distancing.
Some recent pictures of the new rugs in the Grand Mosque that have been published recently on social media warmed the hearts of users who are looking forward to praying there.
We hope to see pilgrims and worshipers there soon
May Allah accelerate our return to the Grand Mosque ??
#شؤون_الحرمين:
الانتهاء من فرش 9 الآف سجادة بـ #المسجد_الحرام
..شملت:
•صحن المطاف
•مصليات الدورين الأرضي والأول
•توسعة الملك فهد pic.twitter.com/khfRv6IQmL

— إمارة منطقة مكة المكرمة (@makkahregion) August 20, 2020
اللهم عودًا حميدًا للحياة في الحرمين، اللهم عامًا نشبع فيه بعد مسغبة، ونُغاث فيه بعد جدب، ونرتوي يا الله بعد ظمأ . . pic.twitter.com/xBKwEGNypl

— JACK (@SuperJack32) August 20, 2020
The only place I wish to be in right now..#المسجد_الحرام pic.twitter.com/njQrQf7oJ1

— بدور. (@bodooraloqab) August 21, 2020