Latest
Prince Faisal Bin Mishaal Visits Buraidah Dates Festival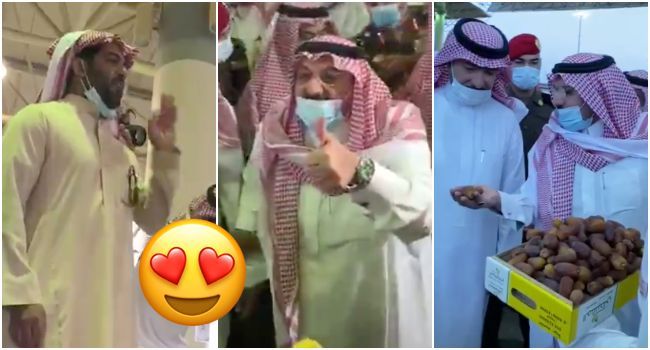 His Highness Prince Faisal Bin Mishaal Bin Abdulaziz, the prince of the Qassim region, visited Buraidah Dates Festival yesterday. During his tour at the festival, he met the vendors and checked the prices and trade activities of the festival.
Footage of the visit has spread across social media showing Prince Faisal's speech about dates and their origins. The footage also showed a date seller promoting his dates in the French language, which prompted Prince Faisal to have a conversation with him in French.
His Highness said: As a Saudi citizen, I am proud of all that is achieved in every part of the land of this blessed country and our economic mobility, which provides food security nationally and globally
Prince Faisal tour at Buraidah Dates Festival
#امير_القصيم اثناء جولته بسوق التمور .. ممازحاً منفذ برومو إنطلاق #مهرجان_تمور_بريدة pic.twitter.com/FUU84P2Joz

— دهش الدهش (@dahash333) August 27, 2020
Prince Faisal's great interest in dates ?
هذا مجدول هذا أساساً في العراق ثم زرع في الجزيرة العربية#أمير_القصيم @EmarahAlQassim يشرح لمعالي وزير البلدية ماجد الحقيل @majedhogail ، منشأ (تمرة المجدول)
خلال مروره بمزادات #المشيطي_للتسويق_الزراعي ب #مهرجان_بريدة_للتمور pic.twitter.com/0lPxUxChok

— المشيطي للتسويق الزراعي (@tomor967) August 27, 2020