Latest
The Top 10 Riyadh Restaurants With The Best Outdoor Terraces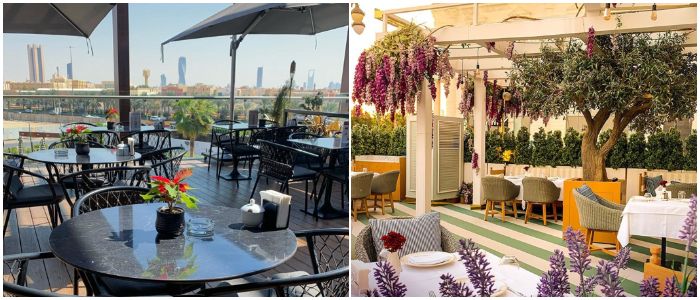 There's nothing like summertime dining al fresco on a beautiful terrace. The cool evening breeze and the night stars are the perfect accompaniment to a satisfying meal and great company. Plus, in the nation's capital, there are gorgeous views to be seen from many Riyadh restaurants.
Here are 10 Riyadh restaurants with the best outdoor terraces:
10. Najd Village
Dine traditional Saudi style overlooking a stunning open-air courtyard that is several stories high. After you enjoy your family-style meal on the Saudi floor seating, you can lay back, relax and enjoy some qahwa and desserts while enjoying the evening breeze and fresh air.
View this post on Instagram
9. Hualan
This upscale Asian restaurant not only serves up terrific dim sum and stir fries, it also serves up some gorgeous views of the Olaya district. The view of the Faisaliyah Tower at night is truly spectacular. Don't miss out on their unique desserts and teas while you chill post-meal on the terrace.
View this post on Instagram
8. LPM
The upscale French-mediterranean eatery is making its way to Riyadh with a planned opening for the public on July 1 and you won't want to miss the pretty terrace. It's so chic you'll feel as if you've been transported straight to Paris.
View this post on Instagram
7. La Brasserie
Located in the Mandarin Oriental Hotel, La Brasserie's tranquil terrace feels like an escape from the hustle and bustle of the city. The food will satisfy even the pickiest eaters with a station-style setup. The lattes are the prettiest and the candlelit tables at nighttime will give you some secret garden vibes.
View this post on Instagram
6. Farzi Cafe
This happening patio will have you sitting among palm trees and views as you tuck into your Indian fusion style food.The place is always packed. Definitely one of the most lively Riyadh restaurant terraces.
View this post on Instagram
5. Lenôtre
Lenotre's gorgeous terrace offers stunning views of the happening city centre in Riyadh. It's as beautiful in the morning as it is at nighttime. Lenotre has quite the breakfast menu, so it just might be the place to start your morning with a little sunshine and fresh air.
View this post on Instagram
4. Pampa Grill
Meat lovers will love this carnivore's paradise located on the rooftop of the Narcissus Hotel. You can take in the stunning views of Tahlia street while enjoying an array of meat dishes brought out to your table. The coolest aspect is the winding pool that weaves through the restaurant, adding a cool vibe and reflecting the night lights for a really cool effect.
View this post on Instagram
3. Solia
Head to Solia for Mediterranean fusion food with influences of Italian, Greek, and Spanish cuisine among some others. The trendy U-Walk location makes for some great people-watching.
View this post on Instagram
2. Walton St. Scalini
Head to the Diplomatic Quarter for this famed Italian restaurant. The floral-laden outdoor terrace will make you feel like you've escaped to Tuscany for a delicious authentic Italian meal. Dreamy.
View this post on Instagram
1. Ritage Garden
This Mediterranean restaurant by famed chef Maroun Chedid serves up a delicious menu, which is great for sharing with friends. You've got the try the tapas (small plates) where you can try a bit of everything — perfect for the indecisive eater! The best part is the Riyadh Park location where you can take in views of the city and the bustling surroundings.
View this post on Instagram