Uncategorized
Riyadh Bank Responds Positively To A Tea Seller Who Has A Master's Degree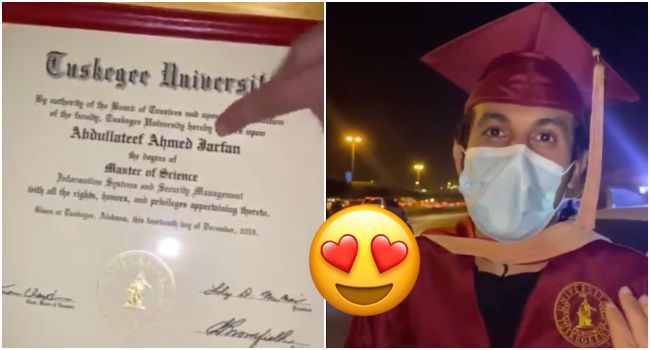 During the past few days, a video clip of a Saudi young man selling tea while wearing his graduation uniform on the Abha-Khamis Mushait highway spread widely across social media.
Many Twitter users reacted to the tweet and the famous, Ibrahim Al Aseri, had an interview with him through Snapchat. During the interview, the young man, whose name is, Abdullatif said that he holds a master's degree from a prestigious university.
Many tweets praised Abdullatif and complemented his courage which led the Riyadh Bank to contact the young man for a job interview through their Twitter account.
The First Clip
الاسم: عبداللّطيف
المستوى التعليمي: ماجستير من جامعة امريكية بتقدير ممتاز
الوظيفة الحالّية: يبيع شاهي و كرك على طريق أبها الخميس 🙏🏻❤️.
الله يرزقه بوظيفة يارب
اعجبني فيه طموحه و اصراره رغم قوة شهادتة عدم جلوسة في البيت
ولله بمثلك نفتخر ❤️.#عبداللطيف_بايع_الشاي
دعمكم للتّاق ⤴️ pic.twitter.com/13iK7KaCfY

— إبراهيم العسيري (@alaseri100) August 20, 2020
The Second Clip
https://twitter.com/saudi_5g/status/1296748528417615873?s=21
Riyadh Bank's Tweet
نفتخر بعزيمتك وإصرارك عبداللطيف 👏
في #بنك_الرياض لا يتوقف بحثنا عن شباب وشابات الوطن الطموحين 🇸🇦

سيتم التواصل معك لتنسيق موعد مقابلة شخصية، تمنياتنا لك بالتوفيق. https://t.co/dlULIaeNZD

— بنك الرياض (@RiyadBank) August 21, 2020