al-khobar
5 Khobar Pizza Places That Are As Good As Italy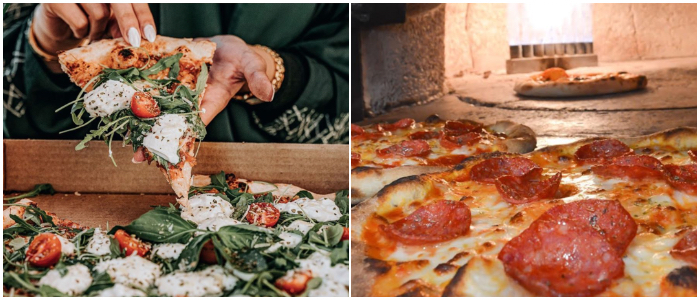 Pizza truly is the most perfect food, isn't it? There's never a time when it's not an appropriate meal. It's carby, cheesy, and can be meaty or loaded up with veggies (or pineapple if you dare!). There are a ton of Khobar pizza places but a few stand out with their authentic Italian style crusts, the freshest mozzarella and the best topping combinations.
Here are 5 Khobar pizza places that are as good as Italy:
5. La Gondola
This cozy and popular Khobar restaurant will make you feel like you've stepped into a quaint Venice pizzeria for a hearty bite. You'll see the authentic pizza oven and know this place is legit. They've got the freshest cheeses for their pizzas, like gorgonzola, ricotta, and freshly grated parmesan.
View this post on Instagram
4. D'Oro
Meat lovers will love the options at D'Oro which praises itself on its authentic Napoletana style pizzas. They've got the thickest cut pepperoni if that's your thing, along with popular Italian favourite bresaola and even Philly cheesesteak topped pizza. Seafood lover? They've got you covered with salmon, mussels and calamari topped pies. Make sure to ask for extra truffle oil. Yum.
View this post on Instagram
3. L'Antica Pizzeria Da Michele
This authentic chain was founded in Naples in 1870 and recently Khobar has been lucky enough to welcome it. The crust is just perfection at Da Michele, meaning they don't have to overload the pizzas with cheese. The result is light, airy, crispy pizza that'll make you feel like you're on an Italian holiday. Si, per favore!
View this post on Instagram
2. 8 Portions
Authentic Italian pizza with global tastes are what 8 Portions proudly serves up. They offer up regional tastes like lamb pizza, shish tawook pizza, Isfahani, and even a South African pizza. Anything with truffle is sure to be good and cheese-lovers, they don't skimp on the good stuff. Plus they've got their own delivery app which makes it super easy to have any time.
View this post on Instagram
1. Ronaldo's Pizza
This hidden gem in Khobar serves up pizzas which fans swear are the best in the region. They serve up the best flavour combinations like the chicken chilli pizza, the Cacciatore and more. Beef, chicken, veggies, you name it, they've got it. They also serve up a mean calzone and their Nutella dessert pizza is also a must to finish off every order.
View this post on Instagram
READ NEXT: 5 Khobar Dessert Spots That Always Have A Queue Out The Door