Latest
7 Saudi Made Goods That Make A Perfect Ramadan Gift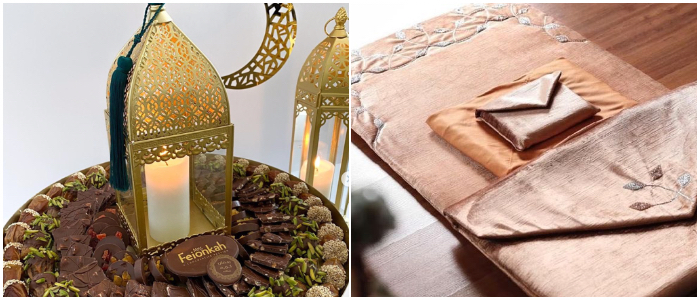 Gift-giving is a quintessential part of Ramadan festivities, whether it's sweets for the little ones, a little luxury for your wife or mother, or an Eid present for friends. Whether you have friends and family to give gifts to at home or abroad, Saudi has some of the most unique vendors selling Ramadan gifts with national flair.
Here are 7 Ramadan gifts to consider buying this year:
1. For your boss
Khobar-based Miss Feionkah confectionary company has the most delectable chocolate treats with unique regional flavours like cardamom ganache and za'atar bark.
View this post on Instagram
2. For your mother
Sujood's beautifully crafted prayer mats will take the months reflections and prayers to the next level with luxurious fabric and classy design. The perfectly thoughtful Ramadan gift.
View this post on Instagram
3. For the kids
Jeddah-based Fathakirr has a wide variety of Islamic gifts, from cute children's prayer sets ad customized mugs, to these colourful Quran's that's sure to put a smile on someone's face.
View this post on Instagram
4. For your friend or sister
Saudi-founded jewelry brand Azha offers quality, modern jewelry at a variety of price points — some of which can even be personalized. The sound wave collection is ultra chic.
View this post on Instagram
5. For your wife
Loomer Jewelry offers classic, timeless jewelry pieces with touches of Arabesque design. We love the use of turquoise and especially the geometric patterns.
View this post on Instagram
6. For the man in your life
Your husband, father or brother can elevate their Ramadan style with these high end prayer beads from Tasneem Eshki. Using materials like wood, pearl and agate these beads are a unique gift that will be cherished for years to come.
View this post on Instagram
7. For your neighbour
For a unique housewarming gift for a neighbour or friend, Poterie's minimalist design housewares are perfect for gifting and at a reasonable price point.
View this post on Instagram
READ NEXT: 5 Places To Order FABULOUS Last-Minute Gifts Delivered Straight To Your Door