Latest
To Celebrate The 90th Saudi National Day Concerts Are Coming Back!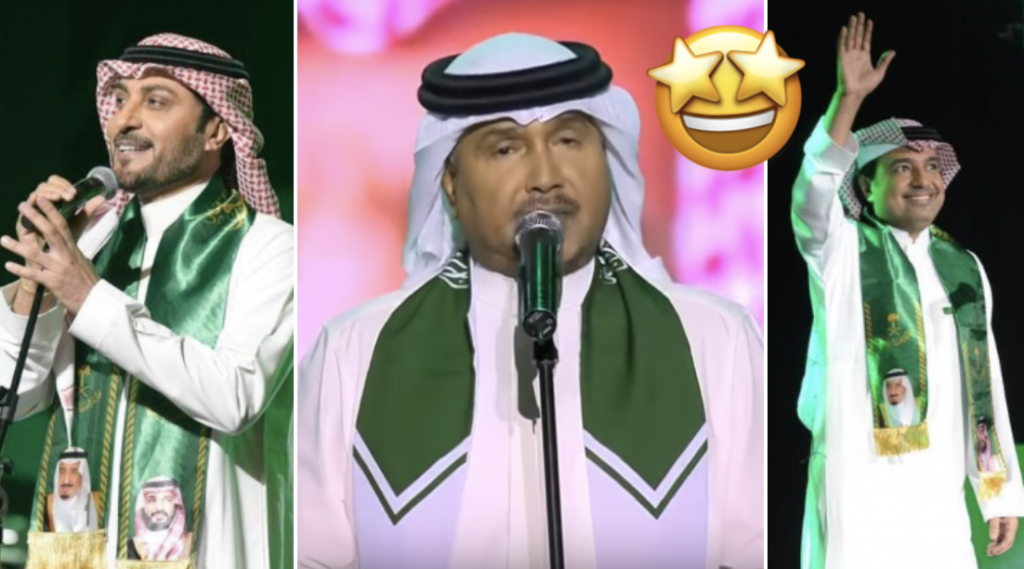 All activities including gatherings and concert came to an end in Saudi Arabia from the month of March this year due to the COVID-19 pandemic.
But the concerts and are back this year on the 90th National Day, which falls on September 23 of each year ?
After news was circulated from the singer and artist Dalal "Abdawiya," one of the largest fans of the artist, Mohamed Abdo, on her Twitter account.
Wally Day is well-known among the public as an exclusive and proactive source for all Abonoura concerts and news.
She said in tweets yesterday evening that the Arab artist will hold a concert on the occasion of the National Day in Riyadh on September 23.
With the participation of artists Rashid Al Majid in Dammam and Majid Al Mohandes in Jeddah.
خاص: سوف يقيم فنان العرب محمد عبده حفل في الرياض بمناسبة اليوم الوطني السعودي تاريخ ٢٣ سبتمبر. التفاصيل قريباً ?

— Dalal • دلال (@3abdawya) August 24, 2020
بمناسبة اليوم الوطني السعودي:
• الفنان راشد الماجد في الدمام
• الفنان ماجد المهندس في جدة
التفاصيل قريباً ?

— Dalal • دلال (@3abdawya) August 24, 2020
A complete guide of returning entertainment activities from the Entertainment Authority
And by virtue of the fact that the Entertainment Authority is the organizer of the National Day season in various cities of Saudi Arabia, with the slogan of "mettle until the top".
Almost two months ago, with the return to normal life in Saudi Arabia, like other ministries and government agencies, it launched a complete guide for the return of all recreational activities.
It includes preventive measures in the aspect of health awareness, preventive measures, the regulatory aspect, the aspect of physical distancing, and other things that you can take a look here.
أطلقنا اليوم في هيئة الترفيه الدليل الإرشادي لعودة الأنشطة الترفيهية بما يضمن التباعد الاجتماعي وعدة جوانب تنظيمية ووقائية وسيعلن عن تاريخ العودة في وقت لاحق ??????
#عودة_الأنشطة_الترفيهيةhttps://t.co/IjJ4EHbrYl pic.twitter.com/8t89KrpOvM

— TURKI ALALSHIKH (@Turki_alalshikh) June 19, 2020
The National Day season last year witnessed concerts by more than 20 artists in 11 Saudi cities
شكراً معالي المستشار @Turki_alalshikh على هذا الفرح الممتد عبر أرجاء وطننا الحبيب من #الجوف حتى #جازان
كانت ليلة تاريخية .. صوت الوطن @Mohammed_Abdu عانق شواطئ #جازان وسهولها وجبالها ???#محمد_عبده_في_جازان #اليوم_الوطني89 #همة_حتى_القمة @makharesh @GEA_SA @falliatcom pic.twitter.com/kYNKuj9vqm

— أيمن العريشيA.Arishi (@aa_arishi) September 23, 2019
??❤️??
?@AhlamAlShamsi
#همة_حتى_القمة
#اليوم_الوطني89 #احلام_في_الرياض pic.twitter.com/rFZwA1g3IR

— معن القويعي (@MaanAlquiae) September 24, 2019
Follow our program every day from Sunday to Thursday directly on our social media accounts
#عالهوا_كل_يوم : أنباء عن عودة الحفلات الغنائية في اليوم الوطني في مختلف المدن https://t.co/aYvBuf3m4B

— Lovin Saudi | نحب السعودية (@LovinSaudi) August 24, 2020