Announcements
Al Shindagha Tunnel Is Closing While The Infinity Bridge Opens In Dubai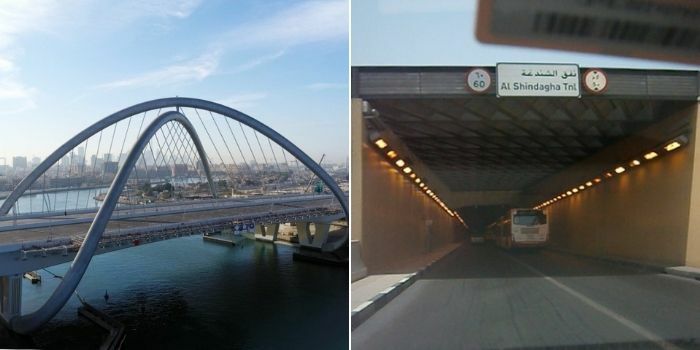 Lots of new routes are being developed that soon you won't know the ways in Dubai but we're also here to make your journey easier. Here's one to note for the future:
The Al Shindagha Tunnel is closing for 2 months, meanwhile, the Infinity Bridge just opened today
Let's hope Google Maps can reroute!
Also Read: Dubai's Stunning New Infinity Bridge Is An "Architectural Masterpiece"
To all Al Shindagha Tunnel users, we would like to remind you about the temporary closure of the tunnel from Deira to Bur Dubai for 2 months as of today. Please follow the directional signage & use the Infinity Bridge as an alternative to easily reach your destination. pic.twitter.com/AaHowSvJkF

— RTA (@rta_dubai) January 16, 2022
Al Shindagha Tunnel takes drivers from Deira to Bur Dubai and starting today, it'll be closed for a couple of months
Deira and Bur Dubai have a lot of activity, pretty much all day, every day. So for those who use it to commute regularly, note it'll be closed for a while. The Roads and Transport Authority are providing you with an alternative!
Instead of the tunnel, the new Infinity Bridge will take you where you need to go instead. The 300-metre bridge has 6 lanes in each direction and is part of the AED 5 billion Shindagha Corridor Project that will extend 13km along Sheikh Rashid Street as well as Al Mina, Al Khaleej, and Cairo streets. Its inauguration didn't involve thousands of people, just a number of Dubai Rulers! HH Sheikh Mohammed bin Rashid Al Maktoum waved to the cyclists as they zoomed by on the bridge. It was a sight to see!
The new bridge can accommodate up to 24,000 vehicles in both directions, each hour. This Al Shindagha Corridor Project will hopefully decrease traffic jams!
View this post on Instagram